Before I write about this restaurant I just want to be clear about the way we review.  It may seem as though we love all the places we visit, however, as we mention in our profile, we are not food critics or experts which means we don't go out to find restaurants to rate.  The way our blog works is to talk about food we have enjoyed.  What this means in practice is that if we eat somewhere we are not keen on we generally won't write about it so our reviews are really recommendations.  Unless we feel compelled to tell you about a particularly bad experience, this is the way we intend to keep doing it.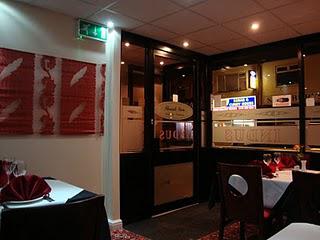 With that in mind comes our latest discovery, Indus Tandoori in Denton.  They sadly don't seem to have a website but I did find this.
We have now been to the restaurant 3 times.  The first time was in its 1st week of opening and it has steadily improved since.  We have sampled a good number of their dishes now and think we can see what they are all about.  The 1st time we went we enjoyed the food but found it a little bland.  We had great discussions as to whether we had got used to such impactive flavours that when something more authentic/normal came along we weren't as bowled over.  The other concern was the plastic plates and smell of new fixtures.  We let them off for this as they had just opened.
On our second visit we were their only customers but again had a pleasant meal.  We were a little concerned, however, by the visit from licensing while we were eating - thought I was going to lose my beer!  Thankfully not.  Throughout our visits the service has been excellent and we really hoped that the place would get popular enough for them to invest in decent crockery!  Also, I think they may have suffered a little for opening so near Christmas time as I suppose people don't take too many risks when planning a festive night out and would more likely book somewhere they know.  We, on the other hand quite happily take risks.
We recently gave a general recommendation for Indus to friends who live in the area that wanted to try them for takeaway.  We told them the food tasted wonderfully fresh and individually created but we found the dishes we had ordered to be a little bland, however it may have been just a bad menu choice.  They ordered food and reported back that they loved it which gave us the impetus to give them one more try.  And we were very glad we did.
So this is to report back from our 3rd and most successful visit to Indus Tandoori.  Again the service was very attentive but not intrusive so full marks there.  There was another larger party eating there that seemed to be enjoying the night immensely which added something more to the atmosphere that was lacking previously.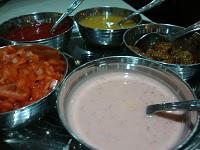 We ordered the usual poppadom each in order to try the chutney tray.  They impressively serve up 5 trays (which you do pay for): Onion Chutney, Mango Chutney, Mint Sauce, Tamarind Sauce and a Lime Pickle.  All were lovely and fresh.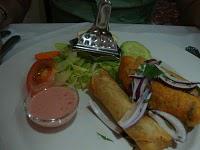 Next we had some mixed starters that I sadly cannot remember specifically and the menu adds no further clue but they were similar to spring rolls! And a portion of onion bhaji.
After a lengthy discussion with the waiter it transpired that the onion bhaji was indeed made with gram flour (as we thought) and safe for Fran.  But sadly Fran could not enjoy the rest which I had chosen.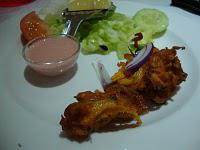 Fran thoroughly enjoyed the bhaji and wasn't the least bit jealous of my excessive starter.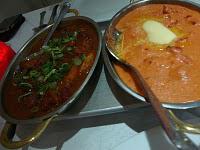 For main course we went for 2 main dishes; Butter Chicken and Manchurian Lamb which was described as "diced chicken cooked in thick sauce, garnished with green chilli, spicy, sweet & hot dish with mango chutney & spring onion" (well we were after flavour!)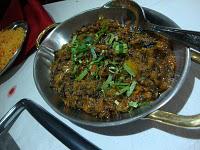 We also had a side of Spinach (Saag Bhaji) which we have done on each of the 3 occasions we have visited.  This dish is absolutely delicious.  Wonderfully fresh and packed with flavour it is the best spinach side we have tried and has been just as good each time.
So did we have desert too?  I'm afraid not.  We ordered far more than we usually do but were able to take a doggy bag home with us which made a fantastic lunch the next day.
Our opinion of Indus has improved greatly since we first visited.  Initially we thought the food was a little bland but our most recent visit has put that thought right out of our minds.  One thing that stands out for us and I have touched on it in the post is the freshness of the food.  Each dish tastes like it was made to order and no 2 dishes have ever tasted the same.  The Butter Chicken was a winner for me.  It was all about the butter yet somehow wasn't overpowering in its richness.  The Manchurian Lamb was spicy yet sweet and unlike anything I have really tried before and was packed full of flavour.
We have been encouraged by the increasing numbers of diners and hope that the restaurant continues to impress.  They have a tough challenge though being situated so close to Blue Crown Takeaway and Aashiana Restaurant both of which are award winners in Tameside.  Despite this we think it is definitely worth giving it a try.  There are some very interesting dishes on the menu that we hope to gradually work our way through.  I get the impression that they are not a bog standard curry house and maybe for the more discerning diner.  The menu features a variety of fish dishes and some more unusual dishes like Kidney Karahi and Chicken Flambe cooked in red wine.  Well worth a visit.