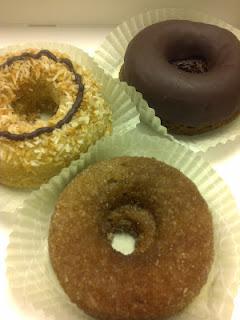 I admit it.  I love having friends in the food industry!  Restaurants, market places, specialty items...what could be bad?  And this time, some of those friends are indulging my sweet tooth while trying not to expand my waistline with their amazing baked vegan doughnuts!
At both
Butterfield Market
and
Baked by Butterfield
, the first baked doughnut shop to hit Manhattan, they are serving up these long-time American favorites but with a healthy twist.
What prompted this endeavor?  The Obsatz family, owners and operators of all Butterfield ventures, have always had a fondness for these cake-like treats, stemming from their late family patriarch, Ted Applebaum.  "Ted was a doughnut-nut.  Most mornings (for almost 30 years) after parking his car outside the market, he would step out and wipe doughnut crumbs off his jacket and pants from the breakfast he enjoyed while driving into Manhattan from his home in Flushing, Queens."
All of Butterfield's vegan doughnuts are nut-free, and are made with a soy milk base.  Other ingredients include whole wheat flour and sweeteners like maple syrup or organic evaporated cane sugar.  While there are plenty of outrageously decadent non-vegan options, the vegan doughnuts come in three varieties: apple cider cinnamon (made using fresh apple cider), toasted coconut made with organic raw coconut, and chocolate ginger which incorporates some molasses.  I was fortunate enough to sample all of them (no, I did not eat three in one sitting) and not only were they were delicious, but because they weren't fried, there was none of that greasy doughnut residue on my hands or my tongue!  Thank you to Newton Pryce, Executive Pastry Chef, for his wonderful recipe and creativity!
The doughnuts are all made in the Butterfield kitchen on the Upper East side and sell for $3 and are made fresh daily.  Forget it being "time to make the doughnuts" ~ it's time to eat them!