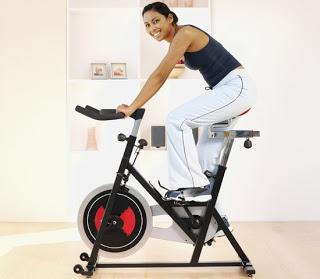 If you don't have a gym membership, fitting in cardio can be difficult when wintery weather means you can't exercise outside. Enter high-intensity interval workouts, which help you burn calories in less time and space. Here are four ways to torch calories in a small space, no equipment necessary!
Squats and push-ups: These simple moves are also some of the most effective strength-training exercises you should master. Doing both in a Tabata-style workout - that is, 20 seconds of high-intensity intervals followed by 10 seconds of rest, continuously for four minutes - offers a time-saving workout that tones and burns fat all at once.

Tabata workout poster: Keep this on your fridge and you'll never have an excuse to skip a workout. The workout includes six Tabata intervals of exercises that focus on every type of exercise for a total-body workout. From jumping jacks to planks to bicycle crunches, get the entire Tabata printable indoor workout here.
Gym-style interval workout: Bored by your normal living room workout routine? This interval workout routine features eight different moves that will work your entire body and leave you satisfyingly sweaty.
Do-anywhere circuit workout: Here's a simple six-minute indoor circuit workout that's broken up into one-minute exercises of squats, lunges, push-ups, bridges, and planks. Do these intervals at high intensity for a cardio boost and repeat three times for an effective workout in less than 20 minutes.