by Diana Parker / Mongabay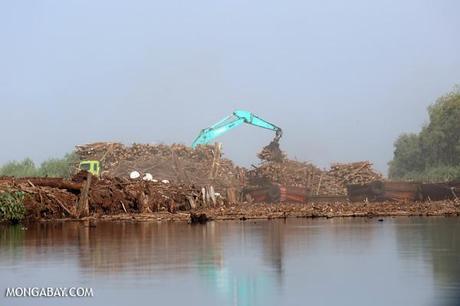 Cranes loading trucks with acacia logs in Riau Province, Indonesia. Photo Credit: Mongabay
The former governor of Indonesia's Riau province has been sentenced to 14 years in prison and ordered to pay almost $90,000 in fines for illegally issuing logging permits in Riau and bribes linked to construction projects for sports facilities.
On Wednesday, the anti-corruption court in Pekanbaru found former Riau Governor Rusli Zainal guilty of embezzlement relating to the illegal issuance of logging permits in the central Sumatran province, which has seen huge areas of forest lost to palm oil and pulp & paper companies in recent years.
According to prosecutors, the illegal permits were given to nine companies operating in Riau, all suppliers of two larger pulp companies – Indah Kiat Pulp and Paper (IKPP) and Riau Andalan Pulp and Paper (RAPP) – Indonesia's state news agency Antara reports.
IKPP and RAPP are subsidiaries of pulp and paper giants Asia Pulp & Paper (APP) and Asia Pacific Resources International Limited (APRIL), respectively.
Tengku Azmun Jaafar, the former head of Pelalawan district in Riau, where many of the companies operate, was earlier sentenced to 11 years in prison in 2009 in relation to the permits. However, so far none of the companies involved have been charged and the government has yet to revoke the illegally issued permits.
"It's not just Rusli Zainal, who released the permits. The companies should also be punished," Isnadi Esman of the Riau Peatland Community Network told Mongabay-Indonesia.
While NGOs in Riau have collected information on the role of the implicated companies and submitted that information to corruption investigators, so far "none [of the cases involving companies] have been processed," Isnadi said.
However, now that Rusli has been convicted, anti-corruption courts and investigators may look more seriously at the role these companies played and whether they may also be guilty of corruption.
"Because it has already been proven that the companies that received [permits] from the defendant have profited from criminal corruption in the form of timber yields, then these corporations are directly involved in these crimes," said I Ketut Suart, a member of the panel of judges that ruled on Rusli's case.
"This should be processed and brought to trial in the Anti-Corruption Court," he added.
The permits allegedly led to the destruction of 30,879 hectares of forest in Riau. This destruction cost the state Rp 265 billion, or around $23 million, in losses, presiding judge Bachtiar Sitompul said on Wednesday, as quoted by the Indonesian news portal liputan6.com.
Rusli was also found guilty of receiving kickbacks from a state-owned construction firm that won contracts to build facilities for the 2012 National Games in Riau and of funneling bribes to national- and provincial-level lawmakers in connection with graft-ridden National Games projects.
The court sentenced Rusli to 14 years in prison, less than the 17 years asked for by prosecutors, and ordered him to pay Rp 1 billion in fines.
Corruption is a massive problem in Indonesia's forest sector. A 2012 Corruption Eradication Commission (KPK) survey found that the Forestry Ministry is considered the most corrupt institution in the country.
However, the KPK, which is responsible for investigating corruption cases in Indonesia, has been slow to take up cases related to forestry crimes. Rusli's conviction marks one of the first high-profile graft convictions related to forest crimes in Indonesia.
"I feel shocked that I was sentenced to 14 years," Rusli said at the court on Wednesday. "I will file and appeal."