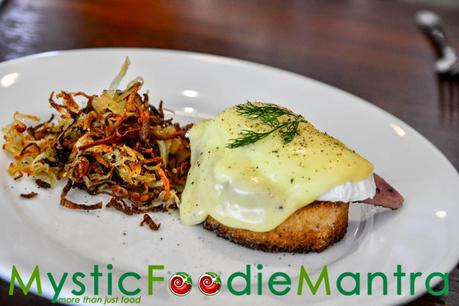 the famous egg benedict
Indigo Deli had already created a lot of buzz and we were keen on visiting this new Deli in Delhi that carries the reputation from their 6 outlets in Mumbai. No doubt the Indigo at Colaba, Mumbai gains favouritism over all the other outlets, but if you like some chic casual decors where you can sit with a cup of coffee while you work on your laptop (And there is no one to bother you!!!), this is the place!
Though being a mall outlet, the ambiance is completely different as you enter inside. I love open kitchens, it kind-of increases the apetite and it's always fun to watch chefs at work. The seating is two level, or I would say three level (as mentioned in the feedback form), with the dining area – a nice circular cup shaped lounge area and the terrace area which we were told is always full. With winter season round the corner, this would make a perfect place to enjoy some open barbeque which they are planning to put up in a few days.
Indigo Deli has always served the pleasing-to-eyes American-European food, with thorough importance given to the breakfast menu. A well curated menu by the owner couple Malini and Rahul with the help of their executive chef Jaydeep Mukherjee, most of their signature dishes and otherwise remain the same from the Mumbai outlet menus. Over a little chat with Jaydeep who is in love with Delhi, we got to know about their signature homemade mustard which is also for sale along with some other sauces and fresh breads on display. Jaydeep mentions of the fact that, at times there is a lot of trouble finding the right ingredients in Delhi and hence the Chef always puts his creativity to use with what comes fresh. Hence the menu keeps changing every day (other than the a-la-carte menu) from the Daily specials.
Going by Jaydeep's recommendation, we tried their very famous wafer-thin pizzas. We did a half-and half portions of two selections: spinach and cream pizza and the sundried tomatoes and mushroom pizza. Both the pizzas made us drool and these are surely not to be missed! I would even go at length and say, "These were the best pizzas I had in a long long time". Their egg-benedict had already got some rave reviews, so Maneesh tried the one with ham and I tried without it. Made to perfection, we almost finished the portion served to us. Maneesh also tried the bbq pork ribs and relished the little sweet caramalised ribs which tasted delicious. Next came on the plate was their much-loved Reuben Sandwich where the meat is cured for more than 15 days and given a hint of smoke before serving. They have a wide variety of burgers and sandwiches to choose from and the best part is, their bread is baked inhouse, which doesn't make the sandwich soggy when stuffed. A perfect grill,a perfect bite.
Having some really good variety of desserts, we were first served the tasting portions of their homemade icecreams. We couldn't really pick a favorite from all of them served. Deli really knows their food and what they serve. Every dish that came on the table seemed to have been made with passion and love for food. With continuos efforts to maintain the quality, they use top notch ingredients and hence one might find the prices a bit high. But I would say, Best things always comes with a price ;)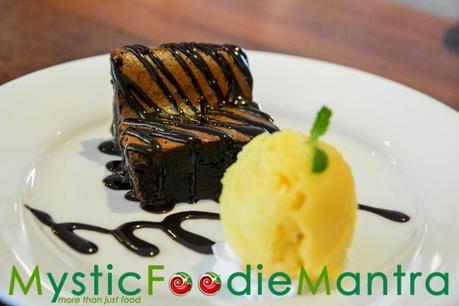 Flourless mud cake served with Orange sorbet
We also tried their Flourless mud cake served with Orange sorbet and that was the dish of the day for us! It looked so appealing that we just didn't want to dig into it. The cake was super soft and moist and the sorbet almost melted in our mouth complementing the cake well. Service was good, not only to us, but we observed the servers at other tables who were doing their best and seemed efficient. Ending this beautiful afternoon at Deli, i had Jasmine tea and the aroma is still lingering in my nose till date
J
Undoubtedly one of the best place for a casual breakfast/brunch or dinner, we look forward to their Indigo outlet (the first in Delhi) which would open in November.
For more pictures please visit our facebook page :
https://www.facebook.com/media/set/?set=a.261156087342053.1073741911.188358804621782&type=3&uploaded=12
Address : 3rd floor, Ambience mall, Vasant KunjMeal for two : INR 2500 (For two people)