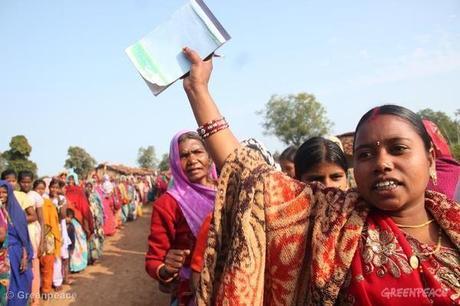 by Akshey Kalra / Greenpeace
If you haven't heard so far, the Supreme Court of India cancelled 214 coal blocks allocated to private companies since 1993, deeming them illegal. And one of these coal blocks brings us to the story of Mahan, one of the oldest Sal forests in Asia and livelihood to more than 50,000 people.
Mahan was always an example of the illegalities and irregularities in the coal sector. From the start till now, the story of Mahan has been one of corruption, dirty tactics and intimidation. The allocation of the mine to Essar, which was deemed "illegal" by the Supreme Court, is just the start to the can of worms that is the case of Mahan.
STRIKE 1: This long and complicated Mahan saga in Madhya Pradesh starts with an ex-Environment Minister standing up for the highly bio-diverse forests of Mahan against a mining company Essar which used everything in its power to wrest the Mahan coal block for its profits. The power of corporate lobbying was evident when within just 3 weeks, the Madhya Pradesh government went from a NO to a YES when it came to allowing Essar to mine in Mahan.
STRIKE 2: The pressure on the Environment Ministry to provide clearance to Essar to mine in Mahan persisted even after a change in the Environment Minister. To hasten this process, the Chief Minister of Madhya Pradesh reportedly went to the extent of going on a hunger strike.
STRIKE 3: As dirty politics was being engaged in at the center and state level, due processes still had to be followed. One of the processes was to get the locals to hand over their land for appropriate compensation. On 6th March 2013, a Gram Sabha was held in Mahan and the locals apparently gave consent for the coal mine. When forests rights activists filed RTIs to view the documents, multiple forgeries became evident, with signatures of people who had been dead for several years as well as people who weren't present at the Gram Sabha.
STRIKE 4: After months of resisting pressure from the company and government to let go of their homes and livelihoods, the local villagers took action. On 22nd January 2014, the locals along with Greenpeace went to Essar's head office in Mumbai asking them to cancel their plans to mine in Mahan. The company did respond to their request but responded by suing peaceful protesters for Rs. 500 crore for what they termed as defamation.
ALL OUT: Once the company and the government realised that there was a growing movement against the idea to mine in Mahan, intimidation began! In the nine months since Mahan became a major topic of discussion in India and abroad, there have been baseless arrests, death threats, seizure of legitimate communication equipment and even desperate cases demanding restraining orders against locals to keep them away from the company's power plant.
The story of Mahan is not just the story of one of the oldest sal forests in India, but of every coal block that's in a forest. This is a clear indication of where the desperation for coal is taking our country. India is at crossroads now. One path is said to bring us 'development' but through devious means, illegal forest clearances and through the dilution of rights of forest dwellers. The second path might be slower but will ensure that development and progress includes each and every person in India.
Today's verdict is a great opportunity for the newly elected government to prove that it wants to stay true to its election slogan, 'sabka saath sabka vikaas' by respecting the rights of forest dwelling communities and behaving in an environmentally responsible manner.
Akshey Kalra is an environmental activist