Increasing The Curb Appeal Of Your Home
If you are tired of the same look every time you come to your home, then you can make a few adjustments that really add some flair. Adding a few projects, some that are even possible being done on your own, can add major curb appeal to your house. Here are some great project ideas to increase the curb appeal of your home, which will make you the envy of all of your neighbors.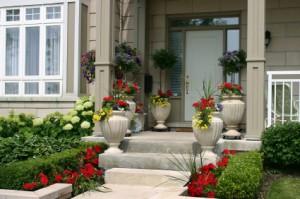 CC: Image source
Landscaping
Landscaping is one of the best ways to increase the curb appeal of your home. If you are someone who likes to work in the garden or plant trees, landscaping can also be a great way to pass time as a hobby. Or, if you simply want to hire someone to do it for you, that is an option as well. Adding trees, bushes and other décor to your home can add value, as well as save you money. These additions will add shade to your home, meaning your electricity bills will be lower as well.
Painting
Painting your home is another option to increase the curb appeal of your home. If it has been many years since your most recent paint job, you'll be surprised how much a fresh coat can make your home look brand new again. Flaking old paint or simple wear and tear that comes at the hands of weather are common issues for any house. But by adding a new paint job, you can add new life to the curb appeal of your home.
Plantation Shutters
Plantation shutters have multiple benefits when it comes to being added onto your home. First of all, they will protect you in the case of certain weather and storms. Second of all, they also look great and add a completely different look that homes with ordinary windows have. Shutters can come in multiple colors, which can add great accents to the overall appearance of your home.
Outdoor Lighting
Outdoor lighting is a way to keep your home safe from intruders. It's also a great way to add curb appeal and value to the home as well. Depending on how detailed you want to go, you can install simple pole lighting in the yard, or even flood lights attached to your home. When it comes time to resell your home, having lights will be a major draw that people will enjoy seeing, knowing the added security that it comes with.
New Doors
Adding a new door is another option to spice up the look of your home. A standard door can wear over time and lose its efficiency of sealing off your home from the outside. It can also lose visual appeal as well. Adding a new door is a welcoming way to invite people into your home.
Mailbox
A mailbox is a great way to not only spruce up your home, but also be creative. There are plenty of mailboxes out there that display the character of their owners and the people that live at the house. A creative and cute mailbox is one option, as is a more modern or classical look that displays your preference in style.
There are plenty of benefits for why you should add some curb appeal to your home. If your house is on the market, it is likely that it'll sell faster with improvements that can be seen immediately as you pull up to the house. Even if you aren't ready to sell, adding things like trees and shutters to your home will do wonders on your heating and cooling bills. And, of course, it is also a great feeling to pull up to a home that you fall in love with each time you see it. Consider adding the improvements listed here to make your home really shine on the outside.
Dean McCoy is a specialist in aluminium plantation shutters in Perth and loves helping enhance the look of a home, or just giving out advice on what works! He's been running his business Riverview Shutters for over 6 years.

Dean McCoy