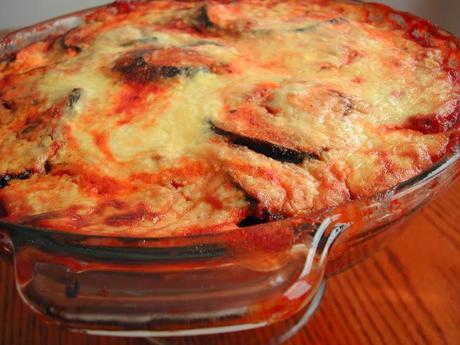 Let me start of by saying I love how Ina Garten cooks. I have made many of her recipes and the one I am featuring today is one that I have made many times. It is called
Eggplant Gratin.
This is a recycled recipe, I posted it last year. It is worth repeating.
I changed only one thing about the recipe. It called for the cook to fry the eggplant in a frying pan in batches. To be honest I am lazy and didn't feel like doing that. I put all the eggplants under a broiler and it worked fine. If you want to do it the frying pan method, get the recipe 
here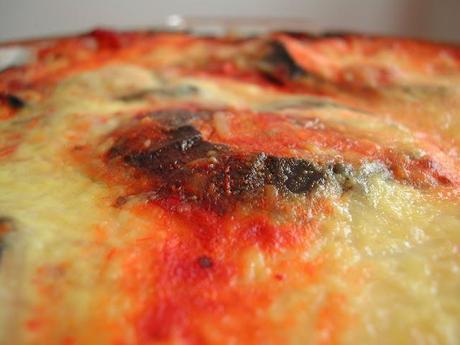 Sorry about the pictures they are BNC (before new camera).
Ina Garten is a self taught cook, like so may of us.
She used her favorite cookbooks to guide her along the way. She is a TV host, cookbook author and recipe developer. She is a former gourmet food store owner and former Policy Analyst for the White House.
For today, she is 
game changer #40

.
Ina was born in Brooklyn, but raised in Connecticut. She would long to assist her mother in the kitchen, but her mother would insist she concentrate on her school work.
In December 1968 she married Jeffrey Garten and moved with him to Fort Bragg where her husband served a four year military tour during Vietnam. After serving, they took a four month long camping trip to France.
When the trip was over, they moved to Washington DC where Ina worked in the White House. She quickly climbed the latter and soon was writing policy papers on Nuclear Energy for Presidents Ford and Carter.In 1978 she left Washington and purchased
The Barefoot Contessa
. It was a specialty food store in New York.. They relocated several time outgrowing each location. After two decades of running
The Barefoot Contessa
, Ina sold the store to two employees.
In 1999 Ina emerged again reinventing herself, this time as a cookbook author. By 2008 all her cookbooks sold over six million copies world wide.
In 2002 she hosted thirteen shows for Food Network called
Barefoot Contessa
. In 2005 Garten signed a very lucrative contract with Food Network. It was reported to be a multi-million deal with multiple cookbooks. Ina lives with her husband Jeffrey and they divide their time among Manhattan, East Hampton and Paris.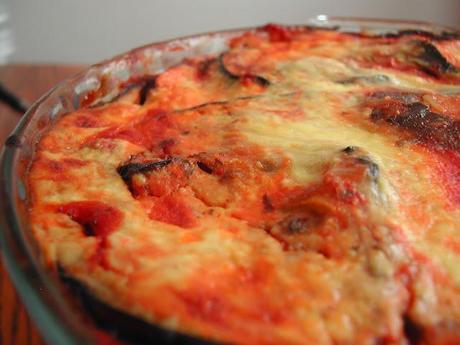 Eggplant Gratin
Adapted from Barefoot Contessa
Good olive oil, for frying
3/4 pound eggplant, unpeeled, sliced 1/2-inch thick
1/4 cup ricotta cheese
1 extra-large egg
1/4 cup half-and-half
1/2 cup plus 2 tablespoons freshly grated Parmesan
Kosher salt
Freshly ground black pepper
1/2 cup good bottled marinara sauce
Directions
Preheat the oven to broil..Cut the eggplant into 1/8 inch slices. sprinkle salt and pepper and olive oil on them toss to combine. Arrange eggplant on a broiler pan. Broil until golden brown. Turn and brown on other side. Set eggplant aside to cool.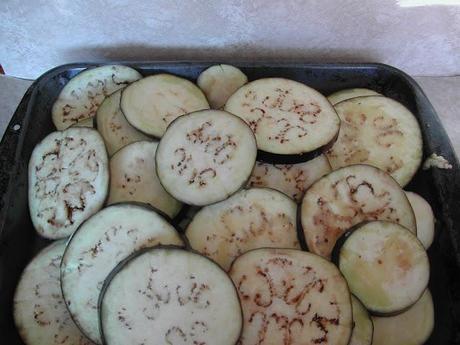 Reset oven to 400 degrees.Meanwhile, in a small bowl, mix together the ricotta, egg, half-and-half, 1/4 cup of the Parmesan, 1/8 teaspoon salt, and 1/8 teaspoon pepper.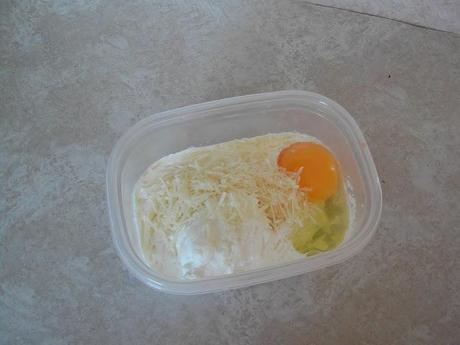 In a gratin dish (I used a pie plate) place a layer of eggplant slices, then sprinkle with Parmesan, salt and pepper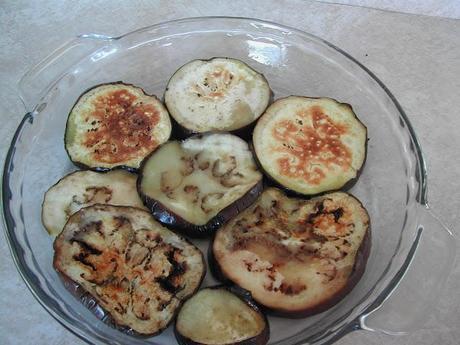 spoon 1/2 of the marinara sauce.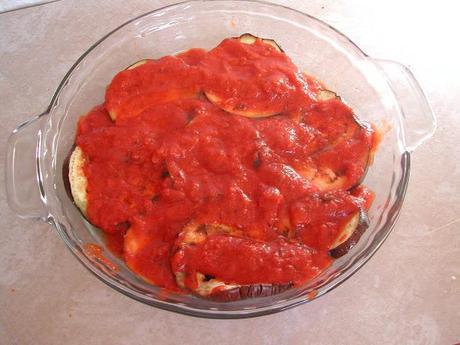 Next, add a second layer of eggplant,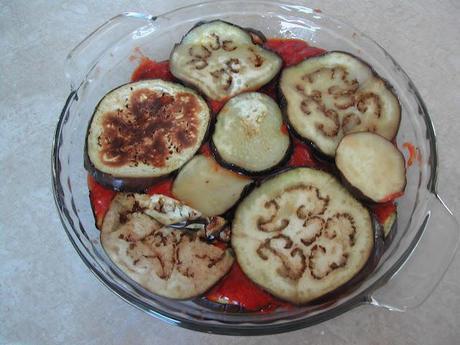 more salt and pepper, half the ricotta mixture, and finally 1 tablespoon of grated Parmesan on top.
Place the gratin on a baking sheet and bake for 25 to 30 minutes or until the custard sets and the top is browned. Serve warm.
The following bloggers are also featuring recipes from Ina Garten.  Please pay them a visit and see what they have to bring to the table.
Val - 
More Than Burnt Toast
, Taryn - 
Have Kitchen Will Feed,
 Susan -
 The Spice Garden
, Heather -
 girlichef
, Miranda - 
Mangoes and Chutney
, Jeanette - 
Healthy Living
Mary - 
One Perfect Bite
, Kathleen -
 Bake Away with Me, 
Sue - 
The View from Great Island
 Barbara - 
Movable Feasts
 , Linda A -
 There and Back Again, 
Nancy - 
Picadillo
Mireya - 
My Healthy Eating Habits,
 Annie - 
Most Lovely Things
, Claudia - 
Journey of an Italian Cook
, Alyce - 
More Time at the Table
, Amrita - 
Beetles Kitchen Escapades
Please join us next week when we feature Elena Arzak.
Peace be with you,
Veronica