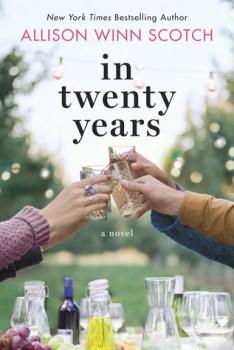 In Twenty Years Published by Lake Union Publishing on July 1st 2016
Genres: Contemporary Women, Fiction, Literary, Women
Pages: 332
Format: eARC
Goodreads


Twenty years ago, six Penn students shared a house, naively certain that their friendships would endure—until the death of their ringleader and dear friend Bea splintered the group for good. Now, mostly estranged from one another, the remaining five reluctantly gather at that same house on the eve of what would have been Bea's fortieth birthday.

But along with the return of the friends come old grudges, unrequited feelings, and buried secrets. Catherine, the CEO of a domestic empire, and Owen, a stay-at-home dad, were picture-perfect college sweethearts—but now teeter on the brink of disaster. Lindy, a well-known musician, is pushing middle age in an industry that's all about youth and slowly self-destructing as she grapples with her own identity. Behind his smile, handsome plastic surgeon Colin harbors the heartbreaking truth about his own history with Bea. And Annie carefully curates her life on Instagram and Facebook, keeping up appearances so she doesn't have to face the truth about her own empty reality.

Reunited in the place where so many dreams began, and bolstered by the hope of healing, each of them is forced to confront the past.
On Monday, I got called for Jury Duty so I headed up the road twenty miles to the county courthouse and along with 698 other jurors, I took my seat and played the waiting game.  I arrived at 8:05 a.m. (yes, five minutes late), and I sat until 3:40 p.m., when I was dismissed and not called as a juror on any case.  Why am I telling you this? Because I brought along my kindle and thanks to NetGalley, I was able to sit down and read a digital copy of In Twenty Years by Allison Winn Scotch from the beginning to the end without having to miss any sleep or work! LOL!
The story is about six Penn college students who shared a house. Bea was the friend who made sure all the other friends stuck together – like a six point star. Bea insists they make a time capsule of sorts to be opened on their twentieth reunion, when they'd be 42 years old.
In 2016, each of them receives a letter from an attorney in New York requesting their presence at the old house they lived in and they show up despite the big blow out at Bea's funeral 13 years ago that caused them to not see each other since then.
They learn that Bea purchased the former University of Pennsylvania campus house and the executor of her will has been managing the house ever since. The executor goes on to say that the house will be vacated and the weekend of July 4th, 2016 and they all show up: Lindy, Annie, Catherine, Owen and Colin. It's the weekend that would have been Bea's 40th birthday.
There's something to be shared by all, but no one could receive said "important item" until all five are together. We learn where the six started, where they had gone, and where they are in 2016. We learn of their youthful indiscretions, secrets, dreams and hopes, as well as their successes and failures. They all have their own "baggage" of sorts.
Catherine and Owen were the perfect couple back then. They are married and have children, but they seem to be falling apart. Colin is a plastic surgeon to the stars but has secrets of his own.
And then Lindy…… she sought out to become a superstar back them.  While she's well known, she's in her 40's while other musicians are young and more relevant. Her producers have her singing songs she isn't writing, and she's not exactly happy. She's struggling with her identity and slowly falling apart herself. 
Poor Annie – she's so busy showing a "perfect" life by posting it on Instagram and Facebook hoping that people actually believe that she's happy and complete when in fact she's living a sadly empty life. She struggles with lost loves, while living with a husband she knows is cheating.
We learn similar memories from five different points of view.  Each person has secrets that are either shared or exposed and for me, the story kept moving so well that I kept turning page after page without even standing up! I really love reunion stories too, and this one wrapped things up very nicely. When I turned the last page, I was bummed that I wouldn't be able to follow along these characters' lives anymore.
If you are looking for a quick, but well written read, this is definitely a book to grab! A perfect book to read for July, that's for sure! Grab your beach bag and head to the beach with this one but don't sit there too long without your sunscreen!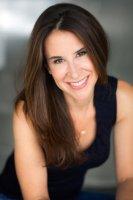 Allison Winn Scotch is the bestselling author of five novels, including THE THEORY OF OPPOSITES, TIME OF MY LIFE, and THE DEPARTMENT OF LOST AND FOUND. Her sixth novel, IN TWENTY YEARS, was released on July 1st, 2016.
In addition to fiction, she pens celebrity profiles for a variety of magazines, which justifies her pop culture obsession and occasionally lends to awesome Facebook status updates. She lives in Los Angeles with her family.
For more about her and her books, go to allisonwinn.com or follow her on Twitter at @aswinn.
Thank you NetGalley and the publishers for providing me with a digital copy of this book for review! It was fun!
~ ~ ~ ~ ~ ~ ~ ~ ~ ~ ~ ~ ~ ~ ~ ~ ~ ~

It would be great if you would stay connected with me!! You can follow me on Twitter @DebiL1611, like me on Facebook at 2014 and Beyond, circle me on Google+, follow me on Tumblr, Instagram and Bloglovin', subscribe on YouTube, or connect with me on LinkedIn and Pinterest.

Please make sure to visit my homepage and subscribe to my blog for more great posts on running, fitness and lifestyle topics as well as food, product, music and book reviews, and more!