September 18, 2013, admin, School, , 12
Well Little Mr A has been back at school for two weeks and we have our first 'issue' of the year.  When I went to pick him up tonight one of the teachers came out with him and said he had something to tell me and that there had been a problem today.
Little Mr A didn't want to tell me what he had allegedly done but eventually he said that he had been 'spitting'.  This did come as a bit of a shock as he is not one to spit and I didn't even know he knew what it really was.  I was even more shocked when the teacher said he had spat at 4 different children and they had had to make him sit inside at playtime as punishment.  I assured her I would speak to him about it once we got home.
When we got home I sat down with Little Mr A and asked him to explain why he had done it.  He said he didn't know but that he hadn't copied off anyone else.  We left it that I was very disappointed and this was not acceptable behaviour and there would be no treats for the rest of the week.  When Big Mr A got home he had a similar discussion with Little Mr A.
Later on, as we were all sat together before bed, Little Mr A began chatting again about the incident.  When we quizzed him a bit further it appears that the incident is not as we were originally led to believe.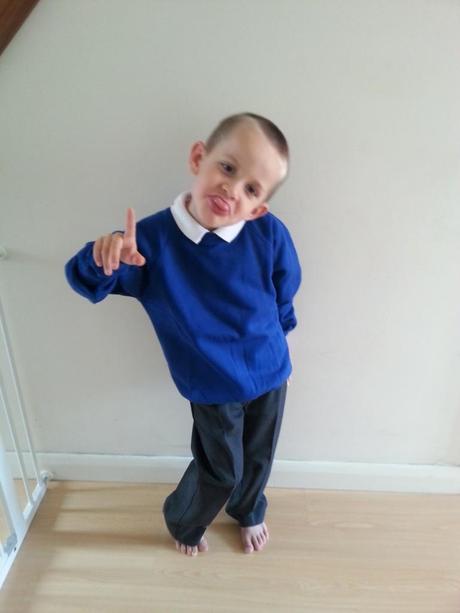 Little Mr A is not one for lying, he hasn't grasped that concept yet, so I have every faith in what he told us at this point to be the truth.  It seems what actually happened is that, in the line waiting to go back in after lunch, Little Mr A was blowing raspberries at some children which one of them has perceived as spitting.  This child has then told a dinner lady that Little Mr A has spat at him at which point, instead of asking him about it he has been automatically punished and the story has been embellished somewhat from this to what I was told at pick up time that Little Mr A had spat at 4 separate children.
I did think something didn't add up.  Little Mr A is not one for spitting, we don't do it, and as far as I am aware it is not something he has come across on TV or anywhere else.
The question is, what do we do?  Do we just leave it or do we tell school that we are not happy in the way it has been dealt with?  I am not happy that Little Mr A has been punished for something that has been blown out of all proportion without proper discussions taking place.
I am slightly concerned that Little Mr A might have been acting up to the older children in his class.  The problem is that he has been placed in a class with Year 2 pupils, unlike most of his friends who have stayed mixed in with Reception children.  This means that, being one of the youngest, Little Mr A has only just turned 5 whereas some of the children in his class will be turning 7 very shortly.  Although I am pleased they think he is intelligent enough to be in the higher class, I am still not sure he is mentally prepared for dealing with older children.  I will certainly be keeping a close eye on him from now on!