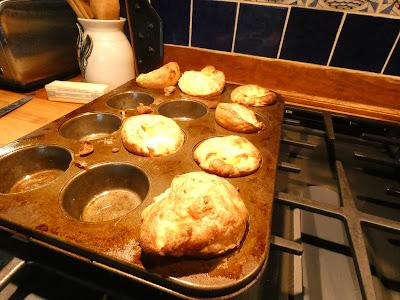 It had been years since I'd made popovers. but when I was pondering what to have to go with some leftover vegetable soup, I remembered these yummy little puffs.
I'd forgotten just how quick and easy to make they are. Here's the recipe.PopoversPreheat oven to 450. 1 cup sifted all-purpose flour1/2 teaspoon salt2 eggs1 cup milkSet popover/muffin tin in oven to heat.

Sift together the flour and salt. Beat the eggs slightly and add the milk. Blend the liquid thoroughly into the flour.
Remove tin from oven and butter each cup well. Pour in batter to half full. (Probably this will half fill 8 or 9 cups.)Bake 20 minutes at 450 then lower heat to 375 degrees and bake 25 minutes longer or until popovers are nicely browned.(In my oven, the popovers were pretty much done after the first 25 minutes. I gave them maybe another 5 or 10 minutes at 375.)
Serve hot with lavish helpings of butter. (My favorite part of the recipe. If any are left over, they're not bad cold the next day.)
For a cheese variation, stir 1/4 cup of grated cheddar into the flour and salt and proceed as above.