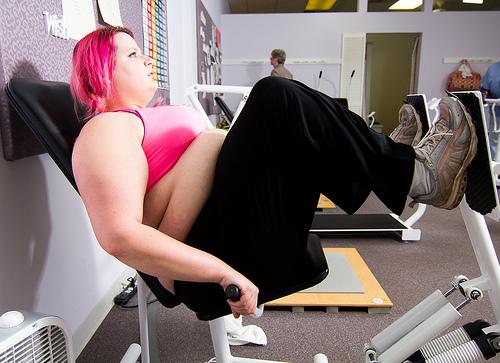 Plus size model Heather from http://fatgirlposing.blogspot.ca. Used with permission.
Heather is a plus size model – that picture to the left, that's her.  Earlier this week a Facebook page called "Fit for Fertility" posted this picture with the text "Everyone has to start somewhere."
To be clear, Heather is not a beginning exerciser – the person who runs the page had no permission to use the picture, and no knowledge of the fitness level of the model, she just assumed fat=beginner and put it up on her page (her page that she uses to sell her multilevel marketing diet products.)
People started sharing the picture, either because they were comfortable with blatantly stereotyping someone based on their body size, or because they assumed that the person who posted the picture actually knew something about the person in the picture and hadn't simply stolen it and applied a cheap stereotype for her own purposes.
The picture started to get lots of hits and the owner of the page, Jaime Milano Smith, bragged on her personal page that the picture (that, remember, she had stolen) had gone viral "Is it dorky that I'm super excited because a picture I posted on my like page went viral? This is fun!"  To which someone replied "Congrats the exposure will be great for your business!! Keep up the great work."
Heather found out and asked Jaime to take the picture down.  Jaime refused.  Heather's friends, including the Rolls Not Trolls community, went to work leaving comments explaining that the picture wasn't her property, that the person pictured wasn't a beginner exerciser, and that she wanted it taken down.  Jaime chose to delete the comments, block the people, and leave the picture up.  Heather filled out a request with Facebook and they finally forced Jaime to take the picture down.
Jaime then took to Heather's Facebook page and wrote, repeatedly,
Heather, you talk about bullies but that's what you and your ignorant friends have been doing to me. You're all hypocrites. I've reported all of your nasty, harassing messages and did you know bullying is illegal? I found that picture on Facebook, in fact it's all over Facebook still. I'm wondering why you haven't harassed those other pages that I actually got the picture from? It was a positive statement that was made. I'm not "fat shaming" how ridiculous?…
So let's take stock of the things that Jaime feels she knows better than Heather:
Who owns the copyright on Heather's picture
How long Heather has been exercising
Whether Heather feels bullied by having her image used as an

"inspirational" "before" picture

Whether or not Heather has been fat shamed
This is one of the most frustrating things to me as a fat person -that we are constantly told that we are not the best witnesses to our experience and that thin people, who are all experts on weight and better than us by virtue of their thinness, should be allowed to speak for us – telling us who we are, how we think, and how we should feel.  A good example of this is the credence given to reports by thin people who wear fat suits of what it's like to be fat, when in fact we have plenty of credible reports by fat people of what it's like to be fat that are doubted or ignored (ie:  "I'm not "fat shaming" how ridiculous?")
I think that it is vital to the fat rights movement that we stand up to people who try to substitute their idea of what it's like to be us for our actual experience, and fight to be seen as the best witnesses to our experience and have our voices heard as Heather and the people who supported her did. To that end, I wanted to let you know about one of the two blog projects I'm super excited to be starting this summer:
Fat Activism History Project
This one has been in the works for almost two years.  I've been contacting many of the people who were part of the beginning of the fat rights movement. I'm going to be doing in-person interviews with them about their experiences, then posting those interviews on a dedicated YouTube channel where everyone can watch them for free.
My goal is to move forward through time interviewing as many activists as I can to build a non-academic verbal history specifically about fat rights activism in our own words that is accessible to as many people as possible (which is why I'm going with YouTube instead of a traditional documentary format)  I'll also be looking into other uses including compiling a documentary style DVD to be used by school and workplace diversity offices to discuss the history of the Fat Rights Movement. I'll be starting fundraising on this in a couple days, for now if you want to get involved you can:
Click here to sign up to receive updates about the project
Name:  Help me come up with a kick-ass name.  Currently I'm considering the following two but I'm open to suggestions!
Fat Overground:  Fat Rights Activists in Our Own Words" (of course as a play on Fat Underground)
Our Place At the Table – Fat Rights Activists in Our Own Words
Connect:  Help me connect with people who were involved in the early years, I'm especially interested in those who were part of The Fat Underground and authors from Shadow on a Tightrope.
In the meantime, I want to say thanks to Heather and those who got involved to help for their work on behalf of everyone who wants to be able to put photographic representations of our fat bodies into the world without having them usurped and used for the exact opposite purpose.  For the record I got Heather's permission to blog about this and use the picture, and you can read her blog about it here and you can find her on facebook at https://www.facebook.com/fatgirlposing
If you want to let Jaime know how you feel, you can e-mail her at [email protected]
Like the blog?  Here's more of my stuff:
Become a member: Keep this blog ad-free, support the activism work I do, and get deals from cool businesses Click here for details
The Book:  Fat:  The Owner's Manual  The E-Book is Name Your Own Price! Click here for details
Dance Classes: Get 3 classes on DVD or download individual classes  Click here for details