Recently I came across two men, each of whom found a way to help those who can't afford mammograms get these life-saving screenings.
Why do the do it? They do it in honor of their mothers who got breast cancer. I want to share a bit about how they are making a difference.
Chef Michael Garahan, CEC, FMP donates part of the proceeds from ongoing sales of his granola to support mammograms for uninsured women at the Ocean Medical Center in Louisiana .
The granola recipe was his mother's. She planted the seed that got him interested in becoming a chef. She died of breast cancer in 1976, one year before he graduated from the Culinary Institute of America.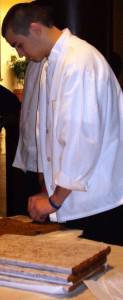 In April of this year he and culinary students from the Louisiana  Restaurant Association Education Foundation ProStart programs and Louisiana Chefs raised funds for the American Cancer Society and the Mary Bird Perkins Cancer Center.  They whipped up the world's largest granola bar and sold slices to benefit breast cancer services provided by these two organizations.
Call-a-Cab owner, James Toner, in collaboration with Yes! To Mammograms, has painted one of his cabs pink in honor of his mother and her recent battle against breast cancer.
Toner is offering free rides from women getting assistance from  the organization, Yes! To Mammograms that don't have the transportation to get to a diagnostic center to obtain a free  mammogram.
Additionally, if you need a cab, request a pink cab for your next ride and Toner will donate a portion of the fare to Yes! To Mammograms, which provides free digital mammograms to low-income and uninsured women in Brevard County, Florida
When Toner is asked why he painted one of his cabs pink,  he says he did it in honor of his mother and other women that have battled breast cancer. Toner knows first-hand how devastating breast cancer can be.  His mother has endured breast cancer not just once, but three times.
Why is Toner donation his pink cab rides to women served by Yes to Mammograms? The Founder and President, Amy Young, is also a three-time cancer survivor.  Ms. Young attributes her cancer survival to the accessibility of early diagnostic testing and health insurance to cover the cost.
Since 2008, Ms. Young and her family have pooled their own personal money together at the end of each month and set funds aside so they could help at least one woman a month receive a free mammogram.
For more information on free mammograms in Brevard County, Florida and about the pink cab, contact Amy Young at

www.yestomammograms.org