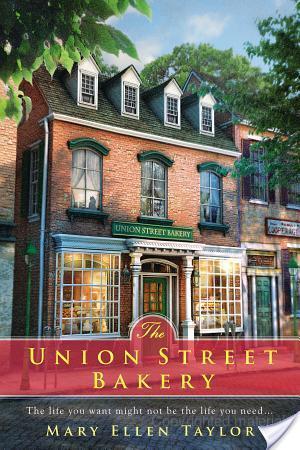 The Union Street Bakery
by Mary Ellen Taylor
Published by Penguin
Published on February, 2013
Genres: Contemporary Women, Fiction
Pages: 352
Source: complimentary review copy
Visit Goodreads
Buy the Book from IndieBound • Buy the Book from Amazon •
I am seriously attempting to stay caught up on my reviews this year ~ the whole idea of having a "book review" blog is to write a few "book reviews!" right?!?  Let's see if I can knock out two reviews + host a giveaway!
Just before Christmas I read a couple of books by Mary Ellen Taylor aka Mary Burton.  The Union Street Bakery and Sweet Expectations are the first two books in a 3-part series about, you guessed it ~ the Union Street Bakery!  A family-run business dating back to the 1800s.
In The Union Street Bakery the three daughters are running the business, just barely.  Daisy McCrae has returned home from living in the corporate world with all the amenities and trappings to live in the attic and help her two sisters keep the bakery running.  An old diary is found in the wall that leads the sister on a search into their past.  With sibling quarrels, family ties, ghosts, old buildings and a bit of Virginia history, not to mention a couple of yummy recipes this one was the kind of light read I needed during the holidays.  I found the diary storyline to be the most enjoyable but did not really follow along with the ghostly presence ~ it seemed as though more of an afterthought.  Still, Taylor can entertain in both words and food!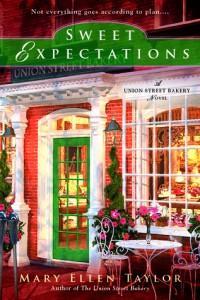 Sweet Expectations picks up where The Union Street Bakery leaves off.  We find Daisy coming to terms with her role at the bakery.  The McRae family is still integral to the story line and another ghostly mystery is discovered for Daisy & family to resolve.  Choices that were made in The Union Street Bakery come with serious consequences as is discovered in Sweet Expectations.  We do see character growth in all three sisters along with some childhood issues being resolved.  This one did not appeal to me as much as the first one ~ I think I got a little frustrated with the sisters, especially Daisy.  Overall though it was a sweet story, one I would even term as a cozy mystery ~ more cozy, less mystery.  Again there's a couple more of Taylor's recipes in this book that are simply divine.