I always look forward to flying AirAsia Malaysia. Aside from the usual services, this awesome carrier is very strong when it comes to inflight catering. But it was only when I went to AirAsia Academy did I finally have a taste of their entire inflight menu. Read more…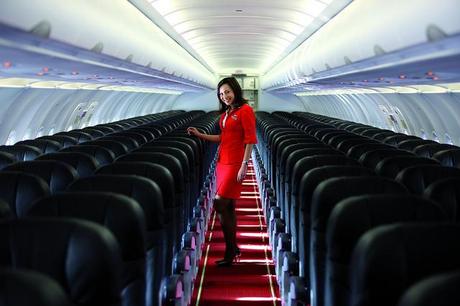 Photo credit: Amazing AirAsia Flickr
I was at the AirAsia Academy in Sepang, Selangor together with ASEAN bloggers for a top secret mission that we cannot write about yet. Doing our mission needed some refueling, so the friendly All-Stars prepared a hefty lunch and dinner from the AirAsia Café menu.
For lunch, I started with a Scallop Congee that was accompanied by condiments. Intended for morning flights to China, this item has yet to make it to AirAsia Malaysia's inflight menu. I didn't expect to like it, but surprisingly, it was tasty, and the peanuts were a nice touch.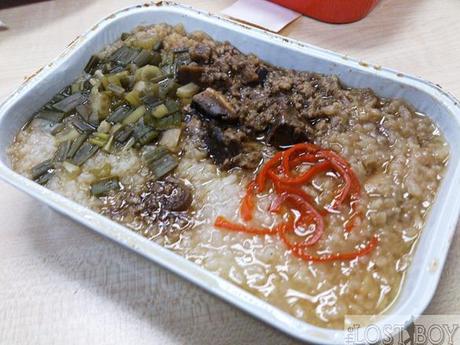 I wondered if pizzas in Malaysia were usually thick because what was served to us was way thicker than the usual. The Cheesy Chicken Pizza had chicken strips, bell peppers, and tomatoes. As I tasted it, the thick crust was not an issue because the pizza had a lot of cheese. Maybe they made the crust thick, so guests would be filled the entire flight?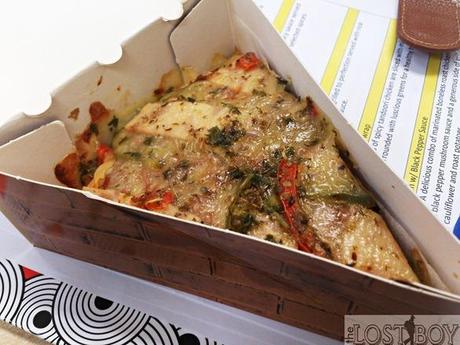 To complement the pizza, there was the Vegetarian Pasta, which was made colorful by the assortment of vegetables like squash, carrot, and tomato.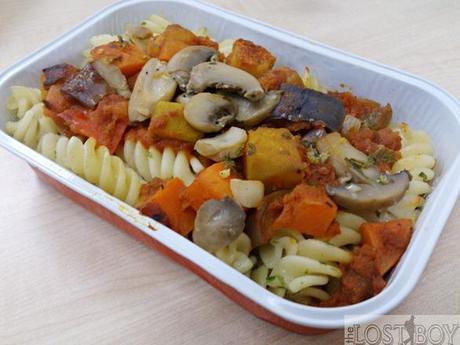 The Chicken Ham and Cheese Sandwich was refreshing because of the crunchy cucumber. As of September 2012, this sandwich can be bought onboard their flights.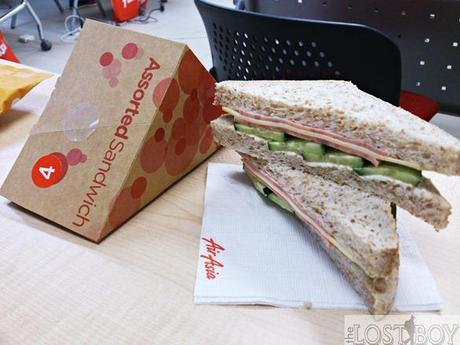 I'm used to sloppy tuna sandwiches that are heavy on the mayo and light on the tuna. Well, the Tortilla A'la Tuna was the opposite, as it was sumptuously filled with big chunks of tuna.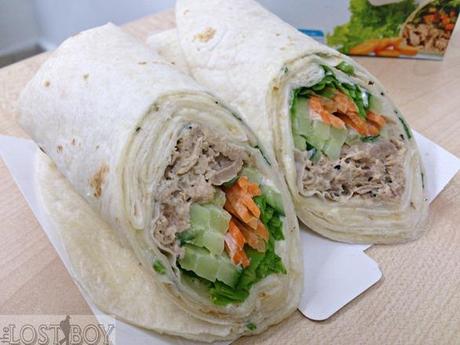 The sticks of Chicken Satay came with rice cakes and onions. The succulent meat was so tasty, and the peanut sauce on the side did not disappoint.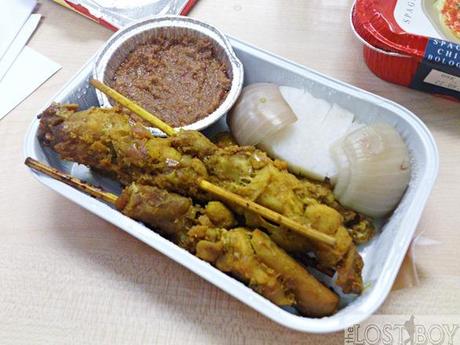 For a Western option, there was the Spaghetti Bolognese, and I liked how it was just a little tangy. By the way, I didn't know the meaty sauce was made of chicken.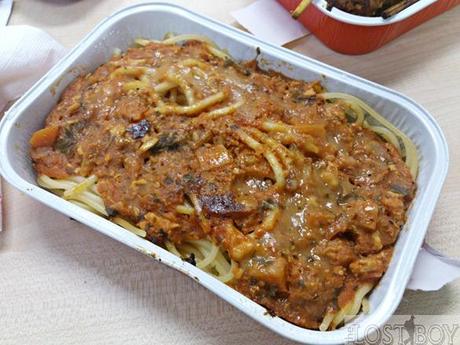 For dessert, I indulged in a luscious Triple Chocolate Muffin. Bakery items from AirAsia Café are always fresh and delicious, even here in the Philippines.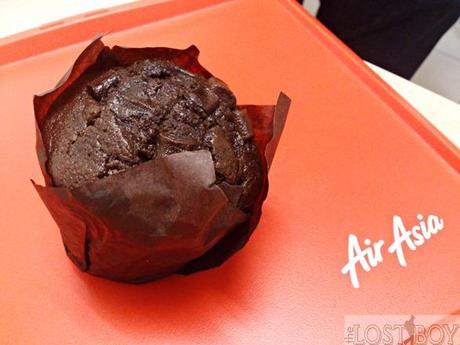 It's quite interesting how they are serving Mat Kelapa or young coconut onboard, as those are hard to keep fresh. But nonetheless, we had refreshingly sweet sips from the shell.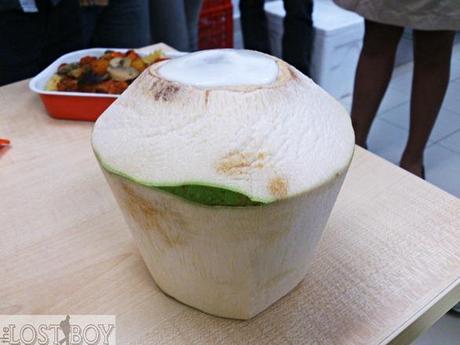 While we were touring AirAsia Academy, we snacked on their Rice Poppers, which is not yet on their inflight menu. The wrapping showed the photo of popcorn, but inside were small pieces of crunchy rice crackers that were sweet and salty at the same time.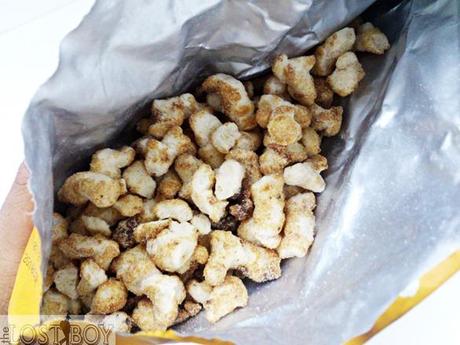 Then it was time for dinner. I first had the Tandoori Chicken Wrap, which I was expecting to be hot and spicy. The heat surprisingly gave only a mild kick, and I didn't think I would like the wrap much. It turned out to be absolutely enjoyable!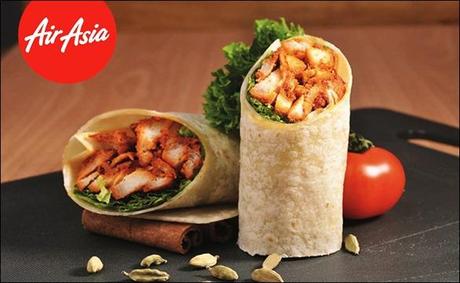 Another one of their future offerings was the Crunchy Salad Sandwich for vegetarians. It has fresh vegetables like lettuce, cucumber, and tomato. I just had a bite because I'm obviously a carnivore, but I bet health buffs will like the minimal calories.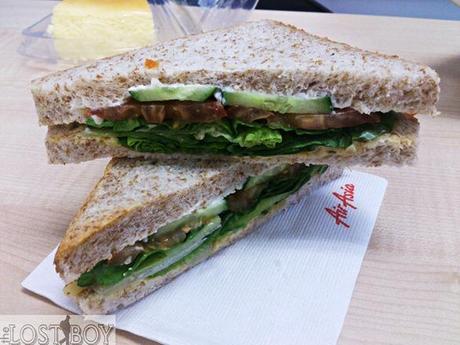 The Mushroom Pizza didn't have any meat either, but I was fine with it. Like the two earlier pizza slices served to us for lunch, it was so cheesy, tasty, and filling.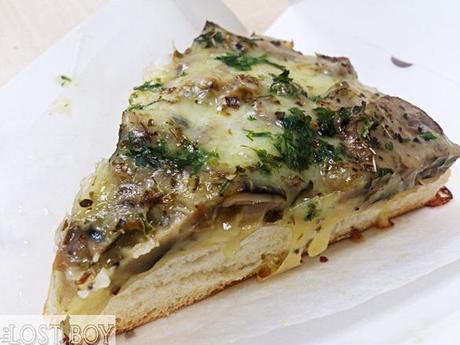 After all the bread, it was then time for us to try their hot meals for dinner. The first one, Roast Chicken with Black Pepper Mushroom Sauce, was unexpectedly a great meal. The chicken was tender, and the potatoes and vegetables were thankfully cooked just right.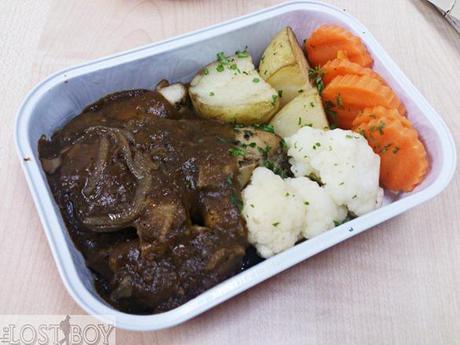 For their flights to India, they usually offer the Chicken Bhukara Briyani. The chicken was cooked in hot and spicy sauce made of an authentic blend of spices, and on the side was aromatic basmathi rice. The heat was just right for my taste buds, and I loved the rice.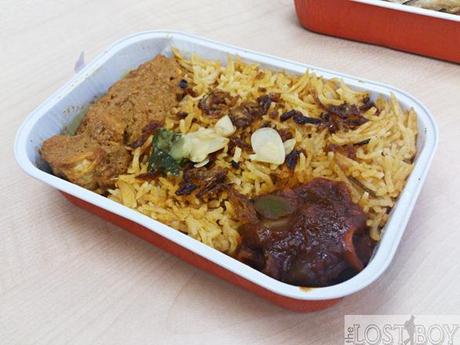 One of the highlights of AirAsia Café is Uncle Chin's Chicken Rice. The man behind the meal is a management pilot with 39 years of experience and is an excellent cook too. When he was still a cadet pilot, their Hainanese landlady would cook the chicken rice for him, so that's how he learned and came up with his own version.
His chicken rice has big slices of tender chicken laid on top of hearty rice flavored with chicken broth. While the chicken and rice were already awesome by themselves, the chili sauce made of fresh chilli, ginger, garlic, and lime juice amplifies the overall taste. Did I like it? Apparently, I did because I had two trays—one at the Academy then another one before my flight!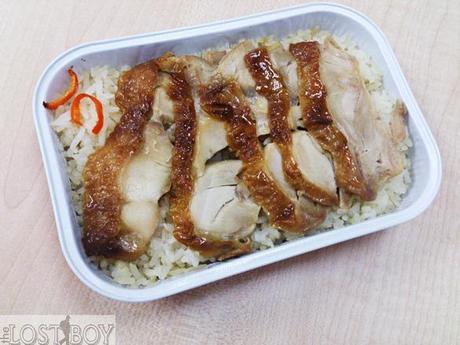 The last one I had happens to be one of their bestsellers—Pak Nasser's Nasi Lemak. Pak Nasser is AirAsia's very own Malay food connoisseur from Negeri Sembilan, and he developed his nasi lemak recipe from his mother's own that gave much importance to the sambal.
Aside from the traditionally-prepared sambal, the tray had fluffy coconut rice, lemongrass-seasoned chicken rendang, half a hard-boiled egg, crispy ikan bilis or anchovies, peanuts, and a pandan leaf. Trust me, this nasi lemak won me over the first time I had it on a flight.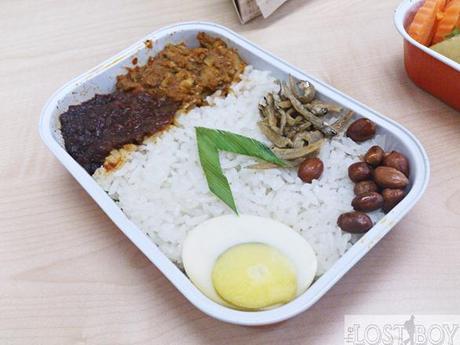 Our wonderful meal was concluded with a Baked Cheesecake. Light and fluffy, the Japanese-style cheesecake was a perfect ending, as it was just light on the sweetness. I had two slices of this divine dessert too.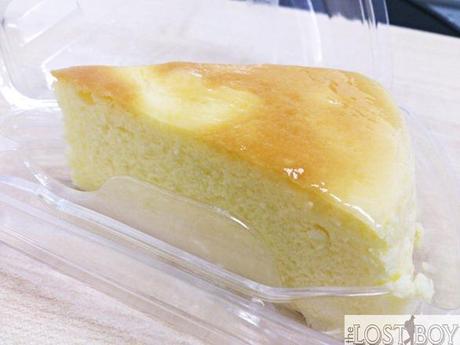 AirAsia Malaysia's inflight café, based on the quality and variety of food, is definitely something to write about. Without a doubt, they get their food from the best suppliers, evidently based on taste, and the quality of the food is consistently superb.
Just a reminder, prebook your meals before your flights to ensure that you get what you prefer, and you'll save as much as 15% from the already affordable prices too!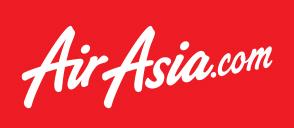 AirAsia Malaysia has an extensive route network across Asia and Australia. Book the lowest fares to their red hot destinations at AirAsia.com. For updates, join the buzz on Facebook and Twitter.