Hey guys, how are you all?I have recently been trying the Impress Nails, by Broadway Nails. I'm trying on First Date, a brown creamy colour, today.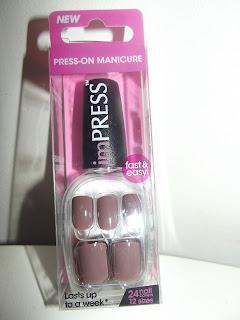 In each pack, you get 24nails - with 12 different sizes. Ideally, you should be able to do two sets of manicures with each pack.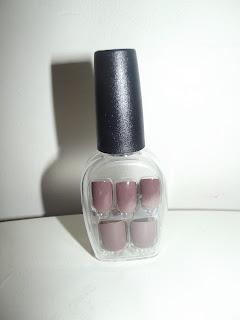 The nails come in a really cute, reusable, nail polish container. You unscrew the lid to get to the nails.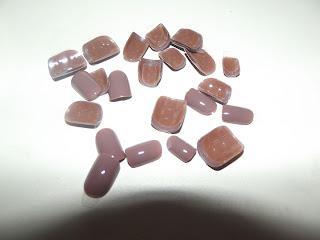 Here are the different sizes of nails.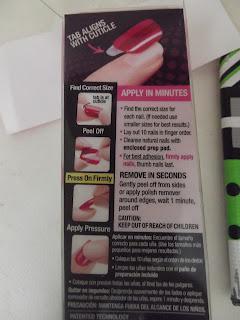 To use the nails it is super simple, you just peel off the plastic tab, align the bottom of the nails with the cuticle of your nail and then press the nail on. It suggests applying pressure onto the fake nail, which is understandable to make it last longer.
I've really wanted to try the Impress nails, but to be honest I was a bit on the fence about them. I've read, and heard, lots of mixed reviews about them. People have said they don't like the look of them, or they don't last long but on the other hand I've heard rave reviews about them.I was definitely excited to try them.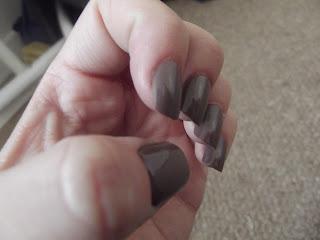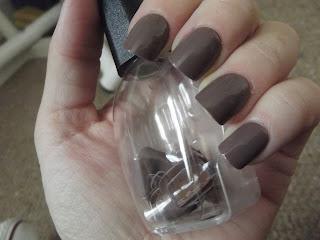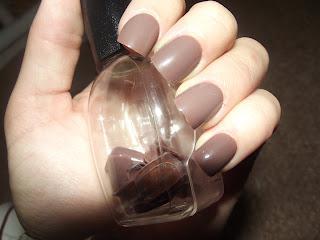 Flash Used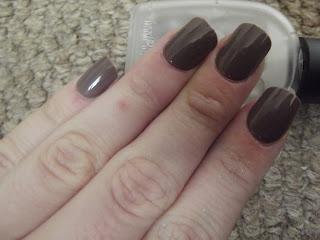 Here are the applied nails. I think they look gorgeous. I love the color of the nails, and I've had many people say that they though they was my own nails - I wish mine were this long. I found the super easy to apply, and when first using them I felt confident that they was secure on my nails.
How did I find them? My job is really hands on, so I didn't expect them to last more than a day or two. I applied them, early Saturday afternoon and they stayed well until Sunday. I had work Sunday evening, for 6hours (lots of stocking), and I didn't expect them to last. I had more compliments from my work colleagues, but they agreed they'd be off by the end of the night. You can not comprehend my amazement, that at 10 when I'd finished, they were still in-tacked!!! They didn't have much damage, only my thumb nail had bent a bit at the corner. But other than that, the was still attached strongly onto my nails. Monday came and went, with another evening shift, and they stayed on. However, at this point I got a little bored of the colour, and applied a glittery top coat. With the new look, Tuesday passed by quickly with my nails still there. I was so surprised that they was still there Wednesday, 4 days and still hanging onto my nails. At the beginning of my evening shift on Wednesday, one of the nails fell off - so I decided to take them all off, so it wouldn't be awkward with my shift. I was surprised they last 4days, and almost 3 shifts at work.I know they say they last up to a week, but I never expected it to with my work. My nails chip all the time from opening boxes, and ripping open plastics, so I expected these to fling off. I think I'm inlove with the adhesive on these nails. Although, the color bored me after a few days I still love the nails.
Where to get them?You can view the Impress Manicures
* 
on their website, here, where they list stockist is the US and UK, as well as a gallery of the nails. For the UK they are available at Boots and Superdrug, at a range of price. In Boots the plain nails (just painted one colour) cost £6.99 whilst the nail art nails cost £8.99. In Superdrug, they are currently on offer (saving £1, so I'd definitely send you here) and are retailed cheaper than in Boots as well, the plain nails cost £4.99 and the Nail Art Nails cost £6.99.
Although I don't think I'd pay £7 for the plain nails, I definitely would for a nail art version of the nails. They are so cute and look great on. For the quality of the Impress, Press-On, nails I would definitely recommend trying them. Even if just once, they are worth ago. I'm looking into getting some of the nail art nails, when I go away and don't want to take nail polishes with me. 
They definitely last!
Have you tried the Impress, Press-On, nails? Which is your favorite design?
Thank you for reading!