19 weeks.  Wow.  This means I've surpassed the number of weeks I spent training for any other race including my half Ironman.  Five weeks till the marathon.
Monday - 15 min elliptical + 75 min yoga
Tuesday - 7 miles @ 9:27 pace with Kim
Wednesday - 50 min spin class (with working set of 30s on, 30s easy)
Thursday - 6 miles with 4 @ 9:03/8:57 (1% incline) on the treadmill
Friday - 2100 yd swim
Saturday - Off
Sunday - 14 miles 
Weekly Total - 27 miles + 75 min yoga + 50 min spin + 15 min elliptical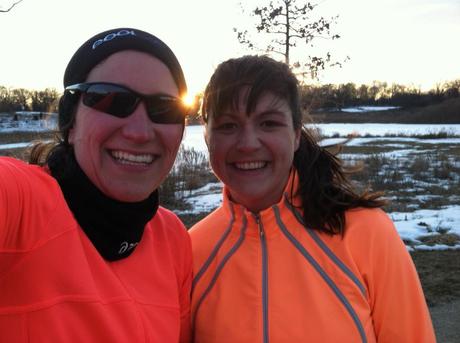 Photo courtesy of Kim!
This week was a good strong week for me! Swimming finally made a return in my schedule! And bonus! I didn't feel like I was drowning which is fairly typical when I haven't been swimming in awhile (months in this particular case).  I was even able to still do 4x100 on 1:45's (repeating a 100 yd swim every 1 minute and 45 seconds) which is definitely slower than I was while training last summer, but much better than I was when I first started swimming regularly.  Improvement!
Running after work in the sunlight is making me really happy. Thursday's tempo run was still completed on the treadmill, but on Tuesday night I met
Kim
 for a run.  Having someone to chat with made the run go super fast and I felt great.
After a 20 miler last weekend, I expected 14 miles to feel easy.  But my head wasn't in the game this week and I slogged through it.  It wasn't a terrible run it just felt long and drawn out.  This is another reminder that running/training for a marathon is about mental strength and endurance as it is about physical strength and endurance, if not more.  When I am tired, I always want to stop and walk but I don't
need
to (most of the time), but I do anyways because my mind says my legs are tired.  Hills are the biggest challenge for me in this aspect.  They are
hard
and therefore I think I deserve a break, but I need to keep pushing and charge up the hill because I am strong enough to do that.  These are great lessons for me as I am running the marathon as well.  I am strong enough to keep running.
What is your biggest mental running challenge?