Illi is a sub-brand of Amore Pacific. This brand mainly focuses on anti-aging skincare products with a blend of oriental herbal medicine ingredients. There are different varieties in Illi hanbang sheet masks like Green Tea for brightening, Mugwort for calming, Camellia for nourishing etc. Since I have dry skin, I chose Lotus variety as it is for moisture.
Ingredients:
Water, Glycerin, Butylene Glycol, PEG-32, Glycereth-26, Panthenol, 1,2-Hexanediol, poly phosphorylcholine glycol acrylate, Arginine, PEG-60 Hydrogenated Castor Oil, Panax Ginseng Root Extract, Nelumbium Speciosum Flower Extract(1.7ppm), Phyllostachis Bambusoides Juice, Beta-Glucan, Propanediol, Phenoxyethanol, Ethylhexylglycerin, Disodium EDTA, Fragrance
The first 3 ingredients are same as in most of the sheet masks. The percentage of Lotus Flower Extract is 0.00017%(1.7 ppm), which is a very low concentration to show any affects on your skin. So Glycereth-26, and Panthenol(vitmain B5) are the actual moisturizing ingredients in this sheet mask than the hanbang ingredients. They both work as lubricants, water-binding, and moisturizing ingredients, and were placed pretty high in the ingredients list.
The hanbang ingredients in this sheet mask are Panax Ginseng Root extract, and Lotus Flower Extract. Ginseng is known to have great anti-oxidant properties, and is also a skin conditioning agent. Lotus Flower extract is known to have Vitamin B, and C and have anti inflammatory properties.
CosDNA analysis looks clean with no major acne triggers or irritants. Except Butylene Glycol is marked as a acne trigger with score 1.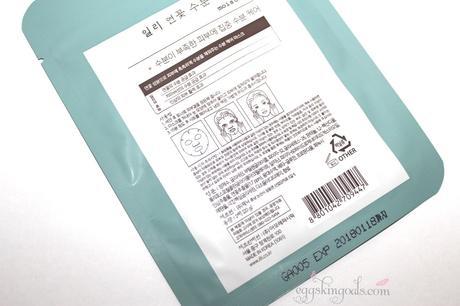 Illi Hanbang Lotus Moisture Mask Review:
The sheet is made of cotton, and is also thick. I felt that the sheet is not really drenched in the essence. The essence was not dripping from the mask. The texture of the essence is like thick serum. I applied a few drops of Mizon Hyaluronic 100( reviewed) before putting mask on my face. The mask adhered well to my facial contours. The essence has lotus fragrance which I loved. It lingers till the mask dry out completely. Keep this in mind if you are sensitive to fragrances.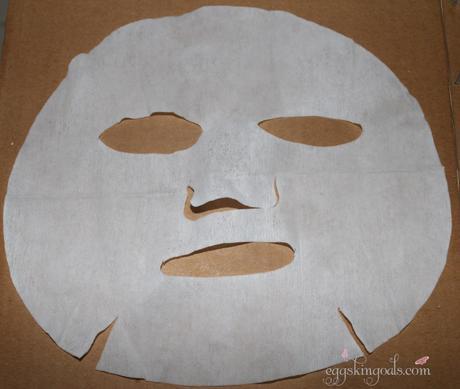 To me, usually it takes at least 40 minutes for the sheet mask to start drying, but this mask dried on my face in just 25 minutes. When I removed it I find my face looked fresh, hydrated a little, and redness around my nose seems reduced. My chin area, where I am prone to eczema, was just left dry. It looked like I just washed my face with water. No flakes, but no moisture. I have tried many masks under $1 that gave me better results than this. I expected more from a hanbang mask. At least if it moisturized my face I would have satisfied. This mask is a total disappoint for me.
You can buy this mask from Testerkorea.
Do you have any favorite hanbang masks?
Do let me know.
**Disclaimer: This product is bought with my own hard earned money, and all opinions are entirely my own. There are NO affiliate links in this post**