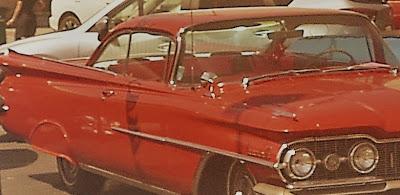 So, we're bound for the headwaters of the Mississippi, in the Magical Red Car that holds an infinite number of adventurers. 
Merisi is riding shotgun (and keeping her eye peeled for coffee shops while Andree, Therese, Ruth, Jayna, Renee, and JJ Roa Rodriquez (he brought snacks) are cozy in the back. (The fuzzy dice were Ruth's idea.)
We've stopped in Ft. Mitchell, Kentucky because how could we not? We're using Atlas Obscura as our road map and it has pointed us to the Vent Haven Museum and the World's Largest Collection of ventriloquist dummies.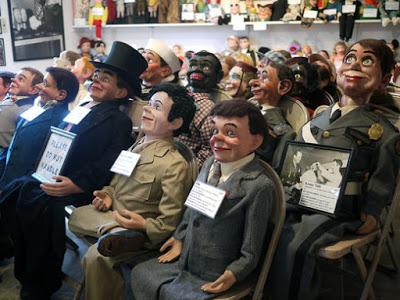 I have to say I find it extremely creepy.
Therese asks if this is typical Americana. I think it probably is.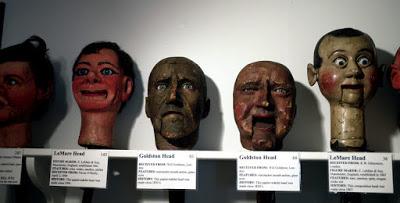 But at least they aren't clowns.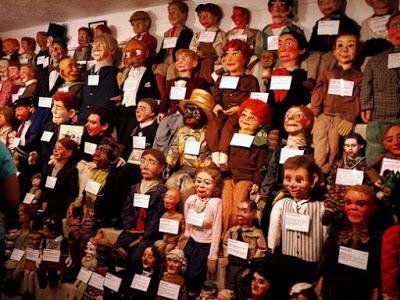 While we're passing through Kentucky, we'll hit Cumberland Falls in Williamsburg so Andree and Renee and JJ can get some pictures. And I'm pretty sure no one wants to miss the Biblical Miniature Golf or Pope Lick Trestle, where the legendary goat man lurks.  
We might check out Troublesome Creek in Claypole, home to the Blue People, and Jayna insists we drive by DeHart's Bible and Tire (that's all they sell) so she can get a picture of their sign. It'll be a full several days and we'll be happy to lay our heads down in the Wigwam Village in Claypole before continuing north and west toward Minnesota.
Stay tuned.