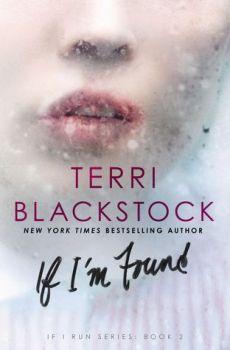 If I'm Found by Terri Blackstock
Published by Zondervan on March 21, 2017
Pages: 384
Format: Paperback
Goodreads
Buy on Amazon

Is Dylan hunting Casey to prosecute her or protect her?

Casey Cox is still on the run, fleeing prosecution for a murder she didn't commit. Dylan Roberts—her most relentless pursuer—is still on her trail, but his secret emails insist that he knows the truth and wants to help her. He's let her escape before when he had her in his grasp, but trust doesn't come easily.

As Casey works to collect evidence about the real murderers, she stumbles on another unbearable injustice: an abused child and a suicidal man who's also been falsely accused. Casey risks her own safety to right this wrong and protect the little girl from her tormenters. But doing so is risky and just may result in her capture—and if she's captured, she has no doubt she'll be murdered before she ever steps foot in a jail.

In this riveting sequel to the USA Today bestseller If I Run, evil lurks, drawing Casey out of the shadows . . . but there is light shining in the darkness. Is Dylan a provision from the God who loves her, or another heartache yet to happen?
Thanks to my relationship with The Fiction Guild's Elite Reader Program, I was lucky enough to be a part of reading and reviewing the first book in this series, If I Run, by Terri Blackstock (see review HERE).
Today' post is for the second book in the series by Terri Blackstock called If I'm Found. If you haven't read the first book, If I Run, that's okay, but I think you might miss a little bit of the story and perhaps some parts of this book may not make sense. However, I do like books like the books in this series where they run in a trilogy.  Book 2 picks up where book 1 left off. I'm hoping book 3 picks up immediately after book 2.
The main characters are still the same and Casey Cox is still on the run fleeing prosecution for the murder she didn't commit. She's running for her life from the crooked cops who killed her father.  Her nemesis, Dylan Roberts, is also back but the evidence is beginning to convince Dylan that Casey isn't the hardened fugitive he once imagined.  Dylan is a man of God determined to bring justice to the wrongs committed.
I really loved it when Casey began to seriously consider giving faith a chance and how he was drawn to God.  As Casey's need to understand who God is and what it means to have faith in Him, she's learning to find God and know Him in the little things.  It's always great to watch someone's faith journey grow in front of our eyes.
"There's no other explanation but God. . . I barely know him, but I think he must know me."
Although it was totally obvious that the bond was going to happen sooner or later, I loved that Casey and Dylan found something meaningful in one another.  You can sense how well they are matched and anticipate their chemistry in the very first moment they meet.
I liked how there was so much danger and suspense in the story and that it seemed like Casey was never really safe and always had to keep moving. The characters were well written, the pace was good and the tension was real.  I can't wait to read book 3!!
As an aside, this 3 book series has book covers that when put together, are super cool.  Take a look: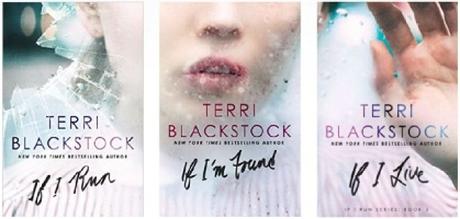 ---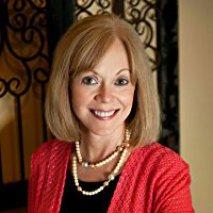 Terri Blackstock is a New York Times best-seller, with over six million copies sold worldwide. She has had over twenty-five years of success as a novelist. Terri spent the first twelve years of her life traveling in an Air Force family. She lived in nine states and attended the first four years of school in The Netherlands. Because she was a perpetual "new kid," her imagination became her closest friend. That, she believes, was the biggest factor in her becoming a novelist. She sold her first novel at the age of twenty-five, and has had a successful career ever since.
In 1994 Terri was writing for publishers such as HarperCollins, Harlequin, Dell and Silhouette, when a spiritual awakening drew her into the Christian market. As she was praying about her transition, she went on a cruise and noticed that almost everyone on the boat (including her) had a John Grisham novel. It occurred to her that some of Grisham's readers were Christians, and that if she wrote a fast-paced thriller with an added faith element, she might just find her niche. As God would have it, Christian publishers were showing interest in the suspense genre, so she quickly sold a four-book series to Zondervan. Since that time, she's written over thirty Christian titles, most of them suspense novels.
Besides entertaining her readers, Terri tackles issues that she hopes will change lives. Her recent book, Predator, was inspired by her experiences on Facebook and Twitter, and her concern that people posted too much personal information about themselves. The book deals with an online predator who uses social networks as his playground. She hopes the book will change readers' online habits. Her New York Times best-seller, Intervention, was inspired by her own personal struggles with a daughter on drugs. In the book, a mother hires an interventionist for her drug-addicted daughter. But on the way to treatment, the interventionist is murdered, and the daughter disappears. Barbara, the mother, sets out to search for her daughter. Terri modeled Barbara after herself, and poured many of her own emotions and experiences into that character. As a result, many families experiencing drug addiction have written to thank her for telling their story and giving them hope.
Other recent books include her stand-alone novel Shadow in Serenity, and Vicious Cycle (Book 2 in her Intervention Series). She's also known for popular series such as the Restoration Series, the Cape Refuge Series, the Newpointe 911 Series, and the SunCoast Chronicles series.
Terri has appeared on national television programs such as "The 700 Club" and "Home Life," and has been a guest on numerous radio programs across the country. The story of her personal journey appears in books such as Touched By the Savior by Mike Yorkey, True Stories of Answered Prayer by Mike Nappa, Faces of Faith by John Hanna, and I Saw Him In Your Eyes by Ace Collins.
Connect with Terri:  Website  //  Facebook  //  Twitter
---
I received a paperback copy of this book without cost from the publisher through The Fiction Guild, a Thomas Nelson/Zondervan book review bloggers program. I was not required to write a positive review. The opinions I have expressed are my own.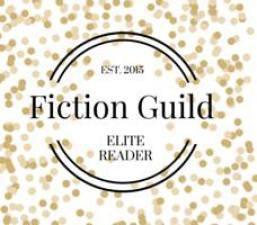 ~ ~ ~ ~ ~ ~ ~ ~ ~ ~ ~ ~ ~ ~ ~ ~ ~ ~

It would be great if you would stay connected with me!! You can follow me on Twitter @DebiL1611, like me on Facebook at 2014 and Beyond, circle me on Google+, follow me on Tumblr, Instagram and Bloglovin', subscribe on YouTube, or connect with me on LinkedIn and Pinterest.

Please make sure to visit my homepage and subscribe to my blog for more great posts on running, fitness and lifestyle topics as well as food, product, music and book reviews, and more!