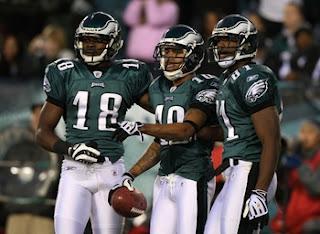 Photo: Getty Images 
- Troy Ballard
The Philadelphia Eagles are reportedly will use a franchise tag on wide receiver DeSean Jackson, however, the chances of him being traded are relatively high, as the team will attempt to get some form of return on him.
Following an incredibly turbulent and underwhelming season that was highlighted by contract negotiations, Jackson could easily find himself being shipped off to another team. The disgruntled receiver did issue an apology, but for the Eagles, the bridge may have already been burned.
If Philadelphia does indeed trade away Jackson, would that make receiver a need for the Eagles?
Clearly, the biggest need for Philadelphia this off-season is acquiring some form of linebacker talent. Last season, the Casey Matthews plan ended in a bust, despite having incredibly high potential. Jamar Chaney played admirably as a fill-in over the middle, but is best serviced as an outside backer. Brian Rolle was a great surprise, but again, he's not starting material.
Philadelphia is going to address the need for a linebacker need before anything else. That's a guarantee.
However, if the Eagles deal away Jackson, it leaves a massive hole in the offense. Philadelphia has had the luxury of having two very solid receiving threats in Jackson and Jeremy Maclin, and both played very well off one another. Each brought a unique aspect to the offense, with Maclin being the reliable possession receiver, and Jackson as the deep speed threat that stretched defenses.
Subtract Jackson from the equation, and the Eagles are left with Maclin as their only starting receiving option. Jason Avant can be effective at times, but is bet fit for a role in the slot. Steve Smith is a free agent, and there is almost no chance that he will be re-signed after a disastrous 2011 season. Behind those two, the Eagles are looking at Riley Cooper, who hasn't show much potential in the NFL, and Chad Hall.
In essence, the Eagles don't have much receiving depth. Jackson plays a much bigger role, even if his numbers don't reflect it, than it appears at first glance. Maclin will remain the sure-fire starter, and Avant will stay in the slot, but the Eagles will be missing a second starter on the outside.
This leaves the option of pursuing an alternative option in free agency, or drafting a replacement receiver. The free agent market is flush with big-name receivers this off-season, but after last season's spending-spree, it's not likely the Eagles will pursue one of them. The draft, on the other hand, is loaded with receiving talent through all seven rounds.
An option, if the Eagles do take a free agency route, is ex-Giant and ex-Jet, Plaxico Burress. The Jets tanked worse than Philadelphia did last season, and with Burress becoming a free agent, he's interested in pursuing other options in the NFL. Conveniently, Burress has said
that he 'badly' wants to play in Philly
.
Burress would add an immediate physical presence in the red zone, something the Eagles have been missing on offense. His height and size would be a huge advantage with Philadelphia's pass-heavy playbook, and would provide an entirely new receiving element to the team.
The best part about Burress, he would be cheap and easy to sign.
The other choice for Philadelphia is to draft a receiver out of the plethora of talent entering the NFL this season. With three-picks, and likely more if the Eagles trade Jackson, in the first two-rounds, Philadelphia will have plenty of chances to do so.
Some names that peak interest are Alshon Jeffery of South Carolina, another talented and very physical receiver, Michael Floyd of Notre Dame, again, very physical. As a possible reach-pick, the Eagles could try and land Kendall Wright of Baylor, who was an absolute monster last season in college. Aside from these three receivers, there is another laundry list of players that could be taken in much later rounds as possible options too, if the Eagles look elsewhere with their first few picks.
This will be decided if, and when, the Eagles trade away Jackson. A solid bet would be to assume he will be dealt before the draft, and depending on the return Philadelphia receives, it could dictate if they pursue free agency or draft Jackson's replacement.
Be sure to follow Beard and Stache on Twitter @BeardAndStache, and also Troy @TroyBallards, Like our Facebook page HERE!