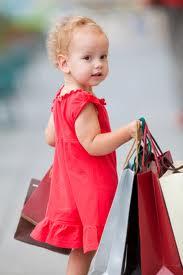 Fashion is not confined to just youth and adults as fashion for kids and toddlers is fast catching up. Kids want to look as stylish and fashionable as their mommies and daddies and fashion brands are making this dream come true by launching various colourful attires just for kids.


Li'l fashionistas dressed up in stylish clothes look all the more adorable and lovable. Here are some tips to make your kids look more trendy, stylish and smart
·

  

Mix and match

: If you think that pair of blue shorts do not gowell with that bright yellow t shirt from the attire you just brought from the store for your kid, you can always mix and match the shorts and shirt with some other piece of clothing! Mixing and matching will also create an impression of owning many clothes.


·

  

Basic necessities

: Basic clothing like sweater, colourful socks, warm pants, and refreshing shirts should always be included in your kid's wardrobe. These basic clothes will help your kid's fashion through changing seasons.


·

  

Comfort:

If you go for too much glitter or bling on the clothing, these may irritate your kid's sensitive skin. Instead choose cotton, silk or any other natural fabrics over synthetic and artificial fabric. This will help in air circulation and do not irritate and suffocate your kid.


·

       

Layer

: Instead of one monochrome colour, try layering your kid's outfit with pieces of clothing of different shades to bring in a bright look for the attire.

·

  

Colour matching

: This is one of the easiest ways to make your kid look stylish. Select

 

tinge with keen detail and match them accordingly, enhancing the overall look of the kid. ·

  

Limit:

Do not use too many accessories or too much bling with a non-matching pair of footwear in the intention of making your kid look stylish. Exaggeration of color use will only end up making the attire too flashy.

·

  

Trends:

Go through the recent fashion trends for kids and take some hints from them. It's not difficult to catch up with the latest kids' fashions owing to the fact that celebrities' kids are always in the news!

·

  

Experiment

: Do not stick to the same old routine fashion trends. Fashion trends evolve with time. Experiment with new attires for kids and choose the ones that best suit your kid!




Make sure your kids clothing are stylish, smart and comfortable. Experiment with different colours and also take their choice and taste into consideration while shopping. Make your kid's wardrobe more colourful and fun!




Sophie is a fashion designer. I also work for a child support agency. I personally feel it is very important for every parent to have
csa phone number childsupport agency

  ===================================================== Disclaimer: Guest Post. To know more, please read my Disclosure Policy.