Disclosure: I was provided with coupons to try each of these products free of charge. All opinions are my own and no other compensation was received.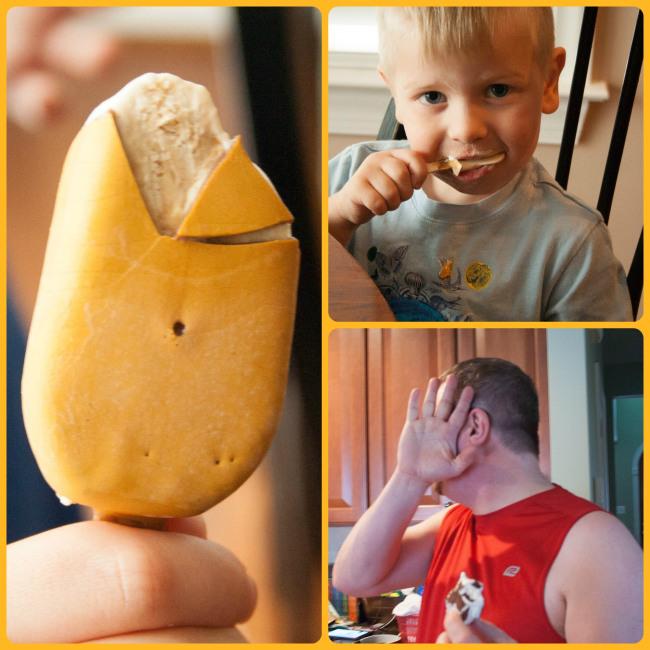 Well, it has arrive. Summer, that is. I love the lazier days and letting the boys play in the sprinkler. For Nico's birthday we got a bunch of great Nerf SuperSoaker water guns and then kids have been having a blast drenching each other. But something that really screams summertime is ice cream and Popsicle.  You all know I'm not huge on snack foods, but there is something about summer that makes ice cream a necessity. Like a right of passage.
I have to admit I have a hard time passing up a frozen treat on a stick. Unilever sent me some really great treats to try, and even if they aren't non-GMO there is a time and a place for them. Summer happens to be the time, and the backyard happens to be the place. There really isn't much better than being able to give your kids (and you too) a fun treat (remembering what treats really are, treats, not daily foods) after a hot day in the sun.
Larry and I enjoyed the Rocky Road Klondike bar. Larry has had a soft spot in his heart for Klondike bars for as long as I've known him. What wouldn't he do for a Klondike?
The boys have been sharing their Popsicles with our neighbor's niece. They all get outside in the kiddie pool or running through the sprinklers and all of a sudden then are all back inside, hot and drenched, asking for a banana, lime or root-beer Popsicle. I remember being a kid and doing the same thing with my cousins. We loved having Popsicles on hot summer days.
Probably my favorite summer treats so far have been the Magnum Gold? The ice cream bars truly have a golden hue, filled with vanilla ice cream and sea salt caramel. I was nice enough to share one with my neighbor (but just one!). These are a more adult ice cream treat, something that is fun to savor and dripping with more complex flavors like sea salt caramel, dark and white chocolate. They are for ice cream lovers with a sophisticated taste.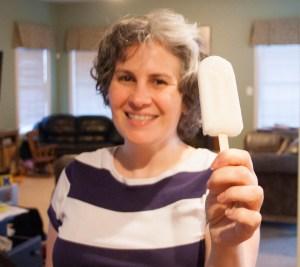 I plan to have Good Humor York ice cream bars available to my guests for the 4th of July. I love the flavor of peppermint and chocolate. And I found out a great little tip the other day, simply by accident. I figured I needed to try these bars out before I could review them, right? Because how can you review something if you haven't tried them, right? But before I could get more than one bite in, my youngest was calling me upstairs to put him back in bed. I spent a good 5 minutes with him and when I got back downstairs the Good Humor York ice cream bar has started to melt and was an amazingly satisfying texture. It was actually perfect.
My father has always been a big fan of Breyer's Ice Cream so I plan to have a bit of that on hand too. He enjoys a good brownie covered in Breyer's vanilla ice cream (and really, who doesn't?). This is an easy treat to make and I can fashion a yummy gluten free brownie for the Breyer's Ice Cream to rest on. OR, maybe I will really offer a huge throw back to my younger days and get some toaster waffles (gluten free of course) and make Waffle Ice Cream Sandwiches. My mother was FAMOUS for these.
The last treat we got to pick up was Fruttare Fruit bars. I, of course, had to get the lime bars. Summer  is better with lime. Limeade is a favorite in this house. The Coconut sounded amazing too.
I hope you get a chance to enjoy this summer with some of your favorite treats. What flavors make summertime really summer for you?