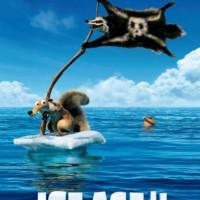 Ice Age: Continental Drift
Director: Steve Martino, Mike Thurmeier
Cast: Ray Romano, Dennis Leary and John Leguizamo
Rating: ***1/2
I love animation films for three reasons – first, they know exactly how to entertain the audience irrespective of the country they're in. Second, all animation films are packed with embraceable life lessons which we can blindly accept. Third, they have some adorable characters you can fall in love with. Ice Age series is one of those films to have lived up to its expectation every time it released, including this time.
Since Ice Age: Dawn of the Dinosaurs everything's changed in the life Mann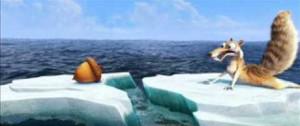 y, Diego and Sid. Manny is busy raising little peaches who's all grown up and desperate to mingle however there's one little problem – like every father Manny too hates to believe his little girl has grown and is ready to go on her own. Sid is handed over the custody of his granny sloth by his long forgotten family who happen to visit him just so that they could ditch the old lady. Diego's life hasn't changed much actually until some 25 minutes in to the film. Amidst all these familial issues, a bigger problem unfolds when Scrat's nutty pursuit of the cursed acorn, which he's been after since the dawn of time, has world-changing consequences – a continental drift. The trio is separated from their family by a drifting continent as they embark upon a life changing adventure. Before all hope is lost, Manny and Co. should reunite with their family by defeating a seafaring pirate and his crew. Will get to meet their family or not forms the rest of the story?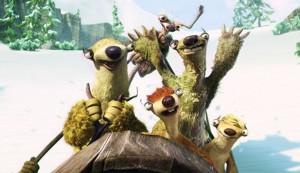 This fourth installment in the series, written by Michael Berg and Jason Fuchs, and directed by Steve Martino and Mike Thurmeier, has plenty of laughable moments nicely coupled with some important teachings which I think are of high value. What Ice Age films have been successfully carrying forward unlike other animated features is its purpose – to make a difference in the lives of its viewers.
If I were to describe Ice Age 4 in one line then here's what I'd say – no matter what the o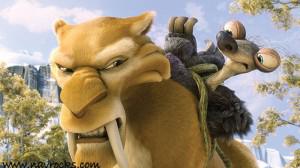 ne hand you should never let go off is that of your family. Time changes everything in a family. Parents become old and they tend to nag while the children get bigger and they want to be independent, doing things their way. This happens in every household and all we do is just live by it but never attempt to do anything about it. Ice Age 4 in particular beautifully weaves together things like love, friendship and some very important familial values in a story filled with enchanting moments.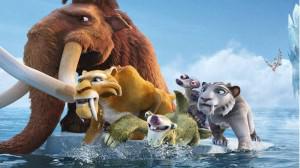 This film is no ordinary animated film because it adds value to your life. I like the fact that the writers also touched upon sensitive issue such as abandonment of older folks from family or dumping their responsibility on the weakest in the family. Therefore, at the end of two hours, Ice Age 4 not only entertains you but also gives you lots to take home and ponder over.
The characters have multiplied and it duly elevates the experience and fun. Sloth yet again steals the show with his new found companion, the granny. Manny's role is very similar to most of our fathers in our house – doting, over-protective but what I liked about it is towards the end there's a lovely closure given to his role which kind of explains everything.
In essence; 'Ice Age: Continental Drift' is an intelligent humour-filled film that screams out loud, no matter what you never drift away from your family.