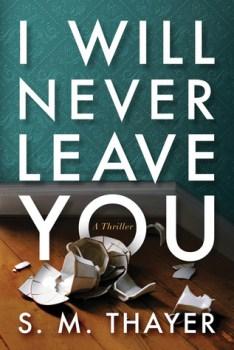 I Will Never Leave You by S.M. Thayer
Published by Thomas & Mercer on September 1, 2018
Genres: Mystery, Suspense, Thrillers
Pages: 350
Goodreads
Buy on Amazon



For one couple, getting what they want comes at a devastating price in this gripping debut thriller.

Banking heiress Trish and her husband, James, seem to have it all, from a lavish lifestyle to a historic mansion in the nation's capital. The only thing that's missing to make their family complete is a baby, so when Trish holds Anne Elise in her arms for the first time, it's no surprise that she falls deeply in love. There's just one problem: Trish isn't the mother.

The baby belongs to Laurel, James's young mistress. And more than that, James and Laurel want to start a new life together—despite an ironclad prenup standing in their way. When Trish becomes dangerously obsessed with making Laurel's baby her own, the lovers' plan to break James's marriage quickly goes awry. How far is each of them willing to go for happiness?
I saw the cover of this book and I was intrigued. Then I read the synopsis and I knew I wanted to read this book since I happen to be on a mystery, thriller, suspense theme right now. I was happy to learn that I was approved to read and review a digital copy of I Will Never Leave You by S.M. Thayer thanks to NetGalley!
The characters in this book put the "fun" in dysfunctional! LOL! In fact, I'll take it a step further and say that all the characters in this story seem to be flawed and selfish, and are are mostly despicable folks.  Each of these three characters have narrating parts in this story too! It doesn't help readers like them any better.
I Will Never Leave You is a love triangle at its finest! There is Trish – the thing she wants most in the world is to have a baby with her husband, James. Despite Trish's wealth and privilege, she just cannot get pregnant.  Then there is James, the husband – he's been busy with his mistress, Laurel, and guess what?  James knocked Laurel up and she's pregnant!
James tells Trish she should divorce him so he can be with Laurel and their baby girl. Instead of Trish leaving him or throwing him out, she becomes totally obsessed with the baby and begins to entertain the idea that her dream of having a family with her husband has finally come true.   Crazy, right?
I had to keep reading page after page because I wanted to know just what awful thing this cast of characters would do next. As the story progressed, I realized there would be no real happy ending possible to this story.  It was like a horrible car accident on the highway – I just went slow and kept watching (reading).  Overall, I felt that I Will Never Read You was an easy read that I enjoyed. I will give this author another shot and will watch for his next book!
---
S. M. Thayer is a pseudonym for an award-winning fiction writer, Nick Kocz is the winner of the 2016 Washington Square Fiction Award. His short stories and essays have appeared in a number of magazines, including Black Warrior Review, Five Chapters, Mid-American Review, The Nervous Breakdown, The Pinch, and Web Conjunctions.  He earned his MFA from Virginia Tech and is deeply indebted to the many fine professors and fellow MFA candidates he met there.  Several of his short stories have been nominated for a Pushcart Prize. He received a MacDowell Fellowship for support while working on a first novel.
Although he was born in Buffalo, New York and spent the majority of his adult life in the Washington, DC metropolitan area, he now lives with his wife and three wonderful children in Blacksburg, Virginia. 
---
I was provided with a complimentary electronic advanced reader copy through Net Galley in exchange for my post.  I was not required to post a positive review, but have chosen to do so! Thank you!

~ ~ ~ ~ ~ ~ ~ ~ ~ ~ ~ ~ ~ ~ ~ ~ ~ ~

It would be great if you would stay connected with me!! You can follow me on Twitter @DebiL1611, like me on Facebook at 2014 and Beyond, circle me on Google+, follow me on Tumblr, Instagram and Bloglovin', subscribe on YouTube, or connect with me on LinkedIn and Pinterest.

Please make sure to visit my homepage and subscribe to my blog for more great posts on running, fitness and lifestyle topics as well as food, product, music and book reviews, and more!