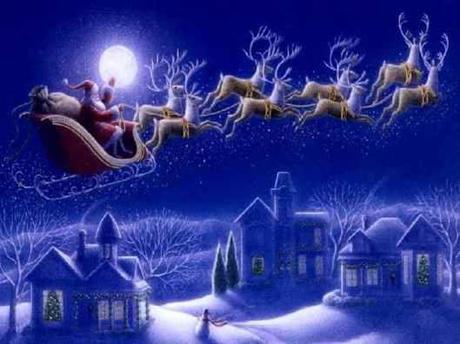 There is 2 days until Christmas Eve and if you are a parent, caregiver, guardian, grandparent, or just a displaced elf, like myself, there are a few sites that you should be aware of (if you aren't already).
One of the greatest sites ever is at the Northpole. There are many activities for you and your child. There are games, recipes, stories to read and color, and much much more. Your child can also write a letter to Santa and he will write back. It's probably a little late to do this now. Wait… I will try it out. Don't move, I will be right back!
Ok, I signed up to the site which took seconds to fill out (you or your child can sign up but, have to be over the age of 13 to do so). In a few minutes I filled out the information Santa requests such as age, sex (don't be perverted now), naughty or nice, and what you would like for Christmas. At the bottom of that is a place where you can type in your wish list and send a note to Santa. I did put that I'm naughty so don't get your panties in a bunch.
In my wish list I said:
I wish for a better year for my family and friends.
World peace.
For the end of the world not to take place next year.
To get a good job writing.
For my husband to get back to work in a Union job.
For unconditional love to continue to bless those that I love.
What?!?! I do wish for those things. LOL
And in my quick note to Santa:
I am a huge fan Santa. Keep up the good work and may you have a magical, safe, and Merry Christmas!
Does that come off a wee bit ass-kissingly? I swear I am being sincere.
I filled mine out in true eccentric/comedic Jen fashion (like I do for everything) and got this reply…
Dear Jenni,
Thank you for sending your letter to Santa.

This is a very busy time here at the North Pole and Santa has lots of letters to read, but he does read and answer each and every one.

It usually takes Santa three days to answer a letter. Please come back then to Santa's Secret Village at www.northpole.com. You will need your user ID and password to read your letter.

Merry Christmas!
Bif, the Mailroom elf

P.S. Parents, Santa needs your help to create a more personalized experience for your child this Christmas! Click here for more information.
Fast and easy, right? There is a lot and I mean a lot of things to do on the site so it is definitely worth checking out.
The next site that you and your children will absolutely adore is NoradSanta (you can visit this site by clicking NoradSanta or from the Northpole site). On this site they track Santa's flying pattern in real-time as he travels the world delivering presents to all the good little boys and girls. (Hopefully, a few of us naughty ones too.)
I have used this site with my kids for about 4 years now and they love it. In different places like in London for instance, you will see a little video icon where you can watch Santa flying around Big Ben. You can watch several of these around the world so you aren't just exciting your child with seeing Santa but, get to see loads of different places around the globe. There is also a countdown clock in the Countdown Village where your child can play games.
So there you have it people a couple of sites to spend the next
01 days
18 hrs
03 mins
49 secs
and counting…
If you want something to read to your kids before bed make sure to check out my story, The Mice Before Christmas on Yahoo. It is a story about 3 little mice brothers who read and discuss the Night Before Christmas poem.
Oh and there is still time to donate to a Merry Kenia Christmas. I will be leaving it open until her 15th birthday January 23rd. Thank you to all who have left loving comments on the post I will be sure to tell Kenia what you have all said and will write a followup piece with photos (hopefully) after Christmas.
May your hearts and homes be filled with love, happiness, and joyous voices gathered together on a most magical day! Merry Christmas to all of you and yours from me and mine!