Howdy friends!  I cannot begin to tell you how happy I am that it is Friday.  It was my first week in my new job and I survived, which is all I was hoping for.  I have never been so exhausted in all my life, I was in bed asleep by 8:45 p.m. every night.  I went through each day being pulled in so many different directions that I barely knew which was was up, but I survived, so I am calling this week a success.  I couldn't help myself with this picture, it just made me laugh so hard this morning!

In general, I freaking love what I am learning and I think I am going to really enjoy my new job, but my mind is so full and I am on information overload. I have rarely ever felt so lost in any aspect of my life.  I am SO incredibly thankful that at least I know who to go to for things and what systems for the most part we use because I think if I was coming from the outside, I would have ran home on the first day and never come back.
So, I apologize that you aren't getting an in depth post, rather, I thought I'd keep in light, mainly because I don't have the brain power to give you anything else right now.  So, you all know I love me a questionnarie or two and I came across this one on Lauren's blog a few months back and decided I wanted to play along, because I mean, combining questions AND running just make me smile!  So here we go!
1. Would you rather run a 5k or a marathon?
While I love longer distances, I am going to go with a 5k.  Marathons just take SO much time and energy and I can run a 5k anyday of the week, so that's what I am going with.
2. Would you rather run a flat race in the heat or a hilly race in the cold?
Hilly race in the cold, hands down. Running in the cold is so much easier than in the heat.  While I like the heat (anything under 80 degrees), but I just don't do well in the heat.
3. Would you rather get new running shoes or a new running outfit?
New running shoes…I tend to stick with the same running outfits I already have.
4. Would you rather run a race without headphones or without a Garmin?
Hmmm..I'd say without a Garmin because I play my music though my phone and could use Runkeeper!  Is that cheating?
5. Would you rather run on the treadmill for an hour or in a circle around the same street block for an hour?
Treadmill.  You all know I am a little weird and actually really enjoy running on the treadmill.
6. Would you rather run a Ragnar Relay or a marathon relay?
Well, I think either would be fun, but I think a marathon relay, only because I wouldn't have to go so long without sleep.  I am a crankpot without enough sleep–Robyn calls me Sarazilla!

7. Would you rather come in 4th in the Olympics or 1st in the NYC Marathon?
I'd rather come in first in the NYC Marathon.  Hear me out…while it would be INCREDIBLE to be on an Olympic team and represent our country, I just think it would be amazing to WIN a marathon (although I'd rather it be Boston!) Like 1st place in a marathon, can you imagine that feeling?
8. Would you rather give up running for 1 year to get a BQ (Boston Marathon qualifying time) or never BQ but run as much as you want?
I would not give up running for a year to BQ.  Mainly because I have already run Boston and have no desire at this point to run another marathon.  Also, the thought of not running for a year is almost unbearable. I love the feeling it gives me and to have to give that up for a year just wouldn't be worth it to me.  Could I find other ways to workout? Of course, but I just really LOVE running.
9. Would you rather run in an urban area or on a trail?
I run both now and both are so different.  I think a trail so I wouldn't have to stop at stoplights and dodge people all the time, although I could be dodging scarier things than a person on a mission to get their Starbucks before work in the morning (that's SCARY, trust me!)
10. Would you rather have a headache during a run or a side stitch?
Side stich, mainly because I can *usually* breath through them and they don't last long, headaches are usually pretty debilitating to me.
11. Would you rather run in a thunderstorm or a snowstorm?
I've run in both, there is nothing that will put fear in you quicker than hearing gigantic thunder when you are in the middle of nowhere!  Don't let the picture below fool you.  My running partner Jill and I were out one afternoon doing our long run while training for the Cape Cod Marathon and it started pouring and the thunder and lightning was incredible.  Thankfully, our running team knew we headed out to do our long run and knew our route and came out to save us!  So, I'd rather run in a snowstorm!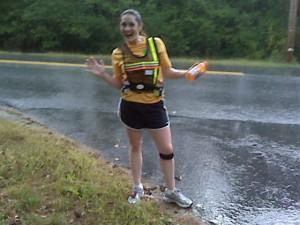 12. Would you rather have a rest day on a work day or a day off?
I'd rather have it on a day off, mainly because getting up early during the work week to get my workout in is such an ingrained habit and I would have to get up early regardless to get to work on time because of the traffic, so I'd rather have a rest day on a day off where I can sleep in!
13. Would you rather run just because or train for a race?
I've told you guys before that I don't LOVE to race, so I would rather run just for the fun of it.  It takes a lot of the pressure off of it and for me, makes it more enjoyable.
That's it folks, have a wonderful weekend!!
—————————————————————
Question of the day
Answer one of the questions above or join along on your blog and let me read all your answers!