BEAUTY
❤ ❤ ❤ ❤ ❤ ❤ ❤ ❤ ❤ ❤ ❤ ❤ ❤ ❤ ❤ ❤ ❤ ❤ ❤ ❤ ❤ ❤ ❤ ❤ ❤ ❤ ❤ ❤ ❤ ❤ ❤ ❤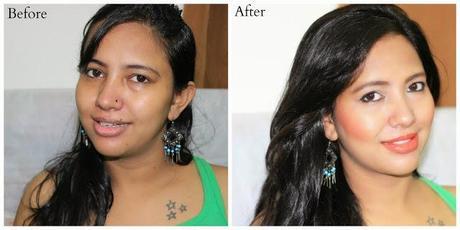 This is the first time I did bold lips and I felt comfortable. Though I haven't tried this in public, I am planning do it with some toned down cheeks. Cheeks are heavily slapped with blush because I had to do the review. I am still not confident with doing eyes and that is the trickiest part, I know. But hopefully, I would get better at that too.
PRODUCTS USED
FACE
1. Moisturizer : L'Oreal Hydra Fresh Deep Boositng Serum
2. Makeup Base: Lakme CC Cream
3. Blush : Colorbar Cheek Illusion Blush in Bronzing Glaze
4. Lips : Maybelline Bold Matte Lipstick in MAT3
EYES
1. Lakme Absolute Kohl Ultimate Kajal
2. Lakme Absolute Flutter Secrets Volumizing Mascara
3. Oriflame Very Me Eye Envy - Brown
4. Concealer Palette via Amazon
Check out of
I Suck At Makeup
Do let me know how you guys like this look, what you could have done differently!
Stay updated with more I Suck At Makeup posts by Shopping, Style and Us.
EMAIL   FACEBOOK      TWITTER      GOOGLE+ 
Disclaimer:
The products were bought by Shopping, Style and Us for review. To know more, please read my
Disclosure Policy
.