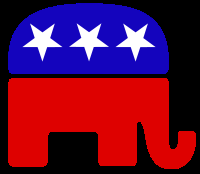 About seven months ago I wrote a post entitled No Republicans in Europe? and wondered why I couldn't find Republicans here. It's not to say that there aren't any Republicans abroad, it's that I generally couldn't find many who weren't over here on a work assignment. A Republican who moves abroad to discover the world is a rare creature indeed. I've met two (that I know of) in six years in Europe.
As it turns out, the groups Republicans Abroad (RA) and Democrats Abroad (DA) are both on Facebook. Apparently, RA was on there almost a year before the DA page. As of this writing, RA has 316 likes with 17 "talking about this" and DA has 14,619 likes with 2,680 "talking about this".  While hardly scientific, the Democrats Abroad group which started later than the Republicans Abroad group has almost 50 times as many members. The DA page is active with lively discussion. The RA page has tumbleweeds.
More to the point, an early post to the RA Facebook page has this interesting post: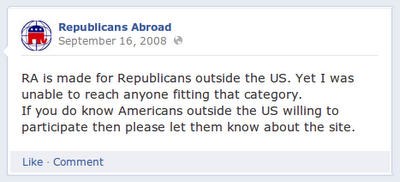 No, I am not surprised.
I've actually wondered if Republicans Abroad really exists or if it's just a front organization trying to make the Republicans not look like a bunch of head-in-the-sand isolationists. Here's the Democrats Abroad sign up page. I am not a Democrat, but I joined anyway. The email is sometimes interesting and often useful (particularly when I am alerted to some new tax punishment the US is handing down to expats). The sign up process is simply filling out a form and clicking submit. It's quick, easy, and free.
Here's the Republicans Abroad sign up page, reproduced here in all its glory:

Is this thing a joke? The minimum you can pay is $50? And what's that for? A month? A year? Lifetime? And you have to print out the form and mail it? This is positively hostile to getting people to sign up. That might be the point.
I see there's a small amount of activity on the French RA page and I wish I could have attended that dinner they mentioned. It would be interesting to find out if Republicans in Europe are anti-science and global warming deniers as their counterparts back in the US.