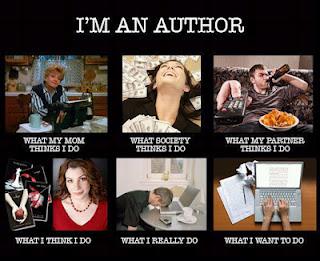 I really have to thank my sister girl Shonell Bacon for this pic. I was on her FB page a few weeks ago, lol saw this picture and couldn't do anything but LAUGH. This picture totally sums up what we as authors, "wannabes", "gonnabes" or "authors-in-training" perceive ourselves/or how others perceive us, and how we really want our writing career to be. It's true. How many of us go out and tell the people in our "circle" that we're an author?
The first thing our mothers may think - is that we're knee deep in a work so great, that we're like my girl Angela Lansbury. Then we have to look at how society sees authors in general. They think that you can come out the gate making Stephen King, JK Rowling type of money (seldom of us do) however that doesn't make us any less of an author just because we haven't inked a ridiculous six or more figure deal.  
Now let's say you are in some sort of relationship. You tell your significant other, you're an author/writer...they may automatically think that you're sitting in front of the idiot box all day flicking channels. (that may be true ~ hey some of us get inspiration or story ideas from something we may see on the boob tube).
Let's look at how we ultimately see ourselves when we think of our writing career. Yes, I imagine myself surrounded by my books, with my lovely author mug shot thinking of clever things to write at book signings (lol - I'm dreaming for that day).
My favorite picture by far is the one of the guy with his head lying on his laptop. I'm sure all of us writers - aspiring, independent, those with lucrative contracts have been this guy before. We've had those days where we were slammed against the abyss of  writer's block from hell with no way out. Then when inspiration strikes, or we've tunneled our way out of writer's block this last picture is how we really see ourselves! Getting our write on!