I've been trying to remain as upbeat as possible about my mammogram of last week, to be honest, it's been worrying the hell out of me. Tomorrow is the day I go to the hospital for more x-rays and an ultrasound. I know, some of you may say "I've been there, done that, it will be ok". Easier said than done, as you know.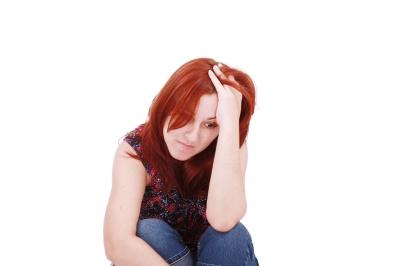 Image courtesy of Jeanne Claire / FreeDigitalPhotos.net
Last night I tossed and turned and just couldn't get relaxed, not even with the help of my friend Tylenol PM. When I awoke this morning, I felt so horrible and burden with worry, I decided to take a Personal Day from work. Thank goodness for an understanding boss.
So my boy Titan and I went back to sleep until I was awaken by him barking. The school bus was picking up the noisy brats across the street. So up I got and started our normal morning routine. Pee break, breakfast, morning treats and kisses. However, I feel like I'm also bracing myself for bad news. One can't help but think the worse, right? No matter how many people tell you not to, you still do it.
I sit here watching horror movie after horror movie, cuddling with my boy, and getting a lil laundry down and yet on the inside, I am bracing. Bracing for what's to come tomorrow. Either a clean bill of health, something they'll need to watch, or an upheaval to life as I currently know it.
So I turn it over to you.
How do you handle the "unknown" and the "unexpected" when it comes to your very own health?
Do you do like me? Try to be as positive on the outside, joke about the situation, yet cry on the inside?