In late June I once again had the opportunity (aka: secured a coveted, difficult-to-get reservation) at Blue Hill restuarant in Pocantico Hills, NY.  This dining destination opened in the spring of 2004 within the Stone Barns Center for Food and Agriculture on the Rockefeller estate.  
"Sourcing from the surrounding fields and pasture, as well as other local farms, Blue Hill at Stone Barns highlights the abundant resources of the Hudson Valley.  There are no menus at Blue Hill at Stone Barns.  Instead, guests are presented with a list of over a hundred ingredients, updated daily, which contains the best offerings from the field and market."  
The cost of the dining experience is set at either $104 or $148 per person.  We chose the 8 course option, starting at 6pm and ending around 10 (though we could have stayed longer) and it, once again, was worth every indulgent penny.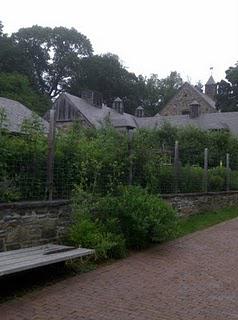 When the server approached our table, she explained how the night would work and then asked for our food preferences.  Vegan patrons are more than welcome and the truly customized plates are a testament to this restaurant's versatility.
Before the courses even begin, you are greeted with a series of amuse buche ~ small bites.  We were presented (truly, each step is a presentation) with smoked kale and yukon gold potato crisps with fresh dill beautifully displayed on tiny branches; fresh tiny c
arrots, asparagus, radish, turnips and cucumber set on thin nails rising from a dark wood plank; h
erbed spritzers in shot glasses with lemon verbena, mint and basil; p
ea "burgers" which were adorable (and only the size of a quarter!); warm b
aby zucchini coated in sesame seeds; and a remarkable v
ichyssoise (cold potato soup) wrapped in leeks ~ it was stunning.

To even attempt to describe the rest of the meal is likely fruitless (no pun intended) as it would have been totally uncouth to take photos (or samples for all of you) but I will try.  Many courses were preceded by some sort of table-side teaching about an ingredient one of us would be eating, so included the vegan examples below:
1st course: A salad of greenhouse greens, beets and strawberries in a light 
vinaigrette

Teaching: The explanation of Regina lettuce, displayed on a tree slice2nd course: Regina lettuce with baby potato and fresh vegetablesTeaching: The history of Celtuce ~ a celery/lettuce hybrid originally from China
3rd course:  Celtuce, hashimagi and chanterelle mushrooms, and almonds with foamAt this point, we were given bread...mine, a gluten-free sunflower bread with olive oil, kale and carrot salts for dipping4th course: Field greens accompanied by new beans, peas and chicken mushrooms 5th course: Heirloom grains with sweet peas and swiss chard6th course: Zucchini and fennel with blanched almonds and herbed croutons7th course: Blueberries with mint ice 
8th course: Elderflower with peaches and red 
currants
If you want to sample the experience, go to Stone Barns and enjoy some of the food at the cafe. On October 1 they will be celebrating Harvest Fest ~ I am a co-chair of this family friendly event from 10am-3pm so if you come by, ask for me!