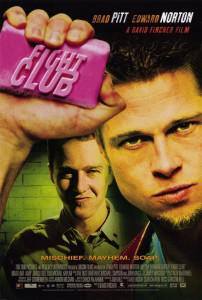 No you didn't just enter a time machine.   Last week was really the first time I ever saw Fight Club and I have to say it's one of those few films that is really well made.
They say it's one of the film's you have to see before you die.  I'm still not sure what took me this long but if a film is great it will remain timeless.
My prenotion of Fight Club was that Brad Pitt and Edward Norton had some sort of crazy relationship that got them mixed up with underground fight clubs and maybe some twists with mob bosses.  Boy was I wrong.
I think this is one of those few films that don't get made anymore.  The world of the film was so well imagined and dark.  Every shot from the director were so detailed.
I know this cause I cringed a lot and I don't usually do that.  I can easily see through pain or environments that look like cheap sets but this was different.
I'm not talking about an expansive world like Avatar but within the closed world of Fight Club, it had life.  It's one of those movies that get praised for imagination rather than realism.
Edward Norton
He is so underrated and I've always loved him every film I've seen him in.  He made his character really grounded and believable.  Evolving from an everyday office robot to a no caring bad ass who comes to work bruised in blood.
But his co actor Brad Pitt made the film even better.  I'm not sure if I've ever seen Brad Pitt act a crazy guy role like this before.
What was cool about him was that he didn't over act the character.  He was always calm and confident but you knew the crazy guy had some sick issues.
In all what sold me was the relationship between the two main characters and the plot twist of how they were actually one person.  It gave the relationship even more chaos, which made it more fun of course.
The scene of Brad Pitt beating up Edward but Edward was actually beating up himself.  That was nice.
Kudos to the director for the blood bashing fight scenes.  I felt every punch and it was painful.
Pic- Fox 2000