November 1, 2013, admin, Health, Reviews, , 0
OK, so this may be a strange statement to make, however, I have never cut my children's nails.  Their Dad has always done it as I have never found a clipper that I have felt comfortable using and have always been scared of hurting them.
I had heard good things about the Stylfile Nipper Clipper from other people so, when Mumsnet asked for bloggers to try out the clipper I put myself forward in the hope that I would finally be able to find something to enable me to cut Little Miss A's nails myself!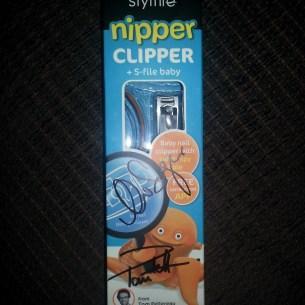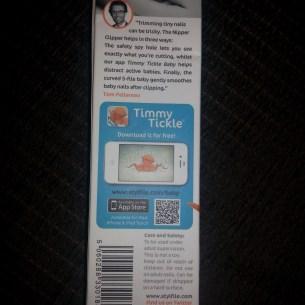 The Sylfile Nipper Clipper was invented by Apprentice winner, Tom Pellereau and when the packet arrived I was very excited to see it had been signed by not only Tom but also Sir Alan Sugar.  We are big fans of the Apprentice!
Together with the clipper, we were also asked to download the new App, Timmy Tickle Baby, which has been designed to keep children distracted whilst you trim their nails.
Tom says the following about the Nipper Clipper…
"Trimming babies' nails is a universal problem and a daily struggle for parents but Stylfile's new product has entered the market to provide a much-needed solution. The new Nipper Clipper is the world's first baby nail clipper with a safety spy hole, baby nail file and distraction app that allows parents to trim nails safely and correctly. The innovative safety spy hole allows parents to see exactly what they are doing, while using a clipper that is sharp enough to trim and cut nails.
…The scissor like action of the Nipper Clipper is smooth, sharp and almost silent, the baby file softens sharp edges, and the unique spy hole means painful accidents will be a thing of the past.
… keeping babies still whilst cutting their nails is a struggle. Stylfile has teamed up with a children's app developer and an Education and Child Psychologist to combat this, through creation of the first nail clipper distraction app, Timmy Tickle-Baby.
Timmy Tickle-Baby is a distraction app designed to take babies attention away from the routine and unpleasant task of nail clipping by using a fun, colourful and animated octopus called Timmy. The app has three different control options that are designed to suit babies of different ages so the experience can adapt as they grow.  Newborn babies will enjoy the Auto Control, which shows animations of Timmy pretending to be different fruit and characters, and as children start to speak Sound Control is designed to engage them as they make sounds of their own. Finally the Voice Control setting is designed to recognise the parent's voice to create a reaction on screen and encourages children to copy the sounds themselves.
By adding three original elements to the standard nail clipper; the spy hole, the baby file and the Timmy Tickle Baby distraction app, the all new Nipper Clipper allows parents to trim and cut their babies' nails in a safe and fun way and prevents nail clipping being a stressful and much dreaded task.
As a new Dad, I am very excited to have created the new Nipper Clipper as I think there is a real gap in the market for a nail clipper that can cut babies' nails in a safe and controlled manner. By combining our original spy hole feature, baby nail file and distraction app together we think the Nipper Clipper will take out the stress out of cutting your babies nails and make it a fun and easy experience"
So, did I manage to use it?  Well, yes!  I sat down with Little Miss A before bed one night and actually trimmed her nails myself.  She was distracted by the Timmy Tickle App and sat very still for me to trim them.  The clipper itself is very easy to use.  I really like the fact that the blades cross over each other, rather than pinching together to snip.  I felt much more at ease using them and the spy hole really helped me to see exactly what I was trimming.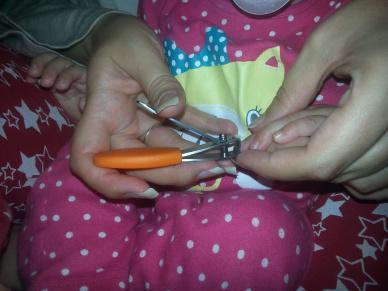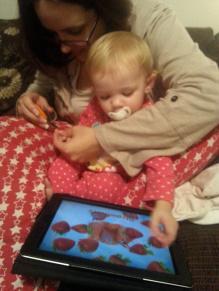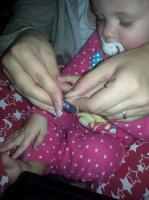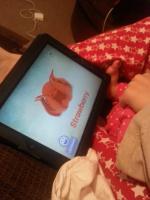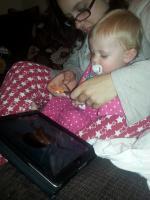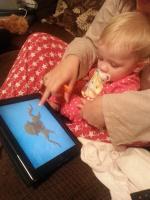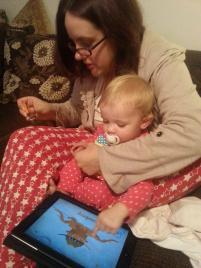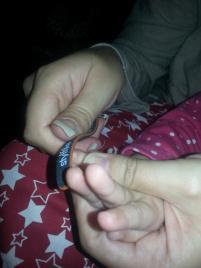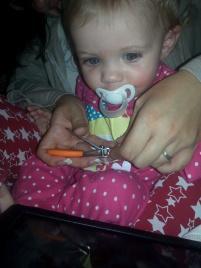 Together with the clipper you also get the baby stylfile, a unique curved nail file.  After trimming I gave all of her nails a file and found this very easy to use.  The curved shape really helps and makes filing much quicker and easier – I will be looking out for the adult sized one for myself!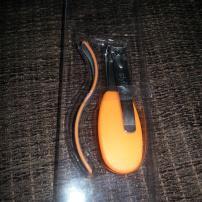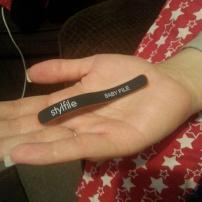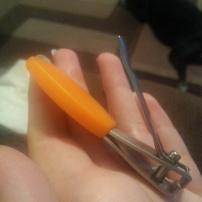 As for the App, it is recommended that you put your iPad/iPhone out of reach of the child whilst trimming their nails, however, we didn't really have anywhere to put it whilst I was doing her nails so I had it on my knee so that she could see it properly.  The App is really bright and engaging and, with three different settings (as described above), it is suitable for all ages of children.  We had it set to sound control as Little Miss A is talking a little and it worked really well.  She really sat still to take notice of what was happening, without getting over excited and wiggling around!
The RRP for this product is £9.99 which I think is great value for money.  It is a high quality product that really does make nail trimming easier for young children.  If I can do it, anyone can and I would highly recommend it!
I am a member of the Mumsnet Bloggers Network Research Panel, a group of parent
bloggers who have volunteered to review products, services, events and brands for
Mumsnet. I have not paid for the product or to attend an event. I have editorial control and
retain full editorial integrity