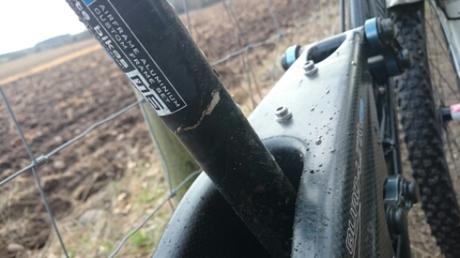 Gutted. Getting my White E5 out of the garage the other day (it was clean for a change) I noticed a huge crack in the frame on the down tube

  it's a shame but the frame is 10 years old and I bought it second hand in 2011.
Trouble is the rest of the bike is mint – but all old specs…. 26 inch wheels, straight 1/8th headtube,  traditional bottom bracket etc….
So what to do. A new bike would be at least £2700 for anything getting near as good or as light as the E5…..
In the end mooching around eBay looking for second hand frames – orange st4s, whyte e120s, superlights, sparks, anthems and the like the E5s slightly heavier American cousin jumped out at me….. A Marin Mount Vision frame from 2010.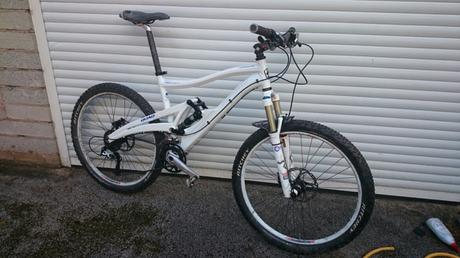 Well I bought it (£230 delivered) and it is immaculate.
Moving everything over from the E5 was a doddle, I just needed a new full length cable outer.
The frame even came with an upgraded shock – an x-fusion
I've only ridden it once so far but at present although a pound heavier prefer it to the E5