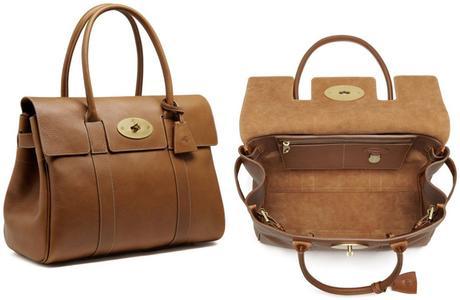 it hasn't been easy for me over the years when it has come to handbags as i used to own so many that i didn't know what else to do with them and plus i had no storage so i could put them somewhere safe for rainy days, I used to be a fan of Paul's boutique bags when they first came out and i loved there range of small bags and there large ones too, I had my first Paul's boutique bag way back in 2011 and i loved it and the bag was called Molly and it had a zebra print design to it and it was perfect for all my daily essentials. The price that i paid for it was a little bit expensive to what it was because a few months later the purse started to fray and also the charms that came with it was falling off in no time, I did get a few of these bags and purses over so many years and there was only a few items that the company did that i loved owning and that was the limited edition molly bags , Barbie bags and there amazing pink glitter purse witch was one of my absolute favourites that i loved. In the end i turned to eBay to build a collection of my own to get these Paul's boutique bags and i had so many that i didn't know what i wanted and also to keep as well. The prices that i paid for each one was really good as i didn't pay more then £10 for them where the website was charging more for the same thing! The only problem was when i wanted a Paul's boutique barbie bag they wasn't very easy to find as they was done for Barbie's 50th birthday and they was so expensive when they first came out.
In the end i ended up selling so many bags on eBay that i didn't want anymore and i made a good profit on all of them i also gave some away to friends, family and of course charity shops just to get them out of the way so i could have some more space in my bedroom. I was gutted that i got rid of my hermes Birkin 30cm that i bought from a website that doesn't even exist anymore and it was a real one too and that was one of the best bags that i had in my collection, I used to also have bags from River Island and Primark and some of there designs was nice but i just didn't want to go around with a cheap bag because it looked like i was poor and i didn't have enough money to get a proper bag that would last me a long time, I did have a few bags from River island and Primark and none of them lasted me that long and i just didn't like the styles and the prices either! So i wanted to start my own collection of something but i didn't know what, I knew that i wanted to collect designer handbags but i just didn't know what brand i would like. I have seen some Chanel bags and there is only one that i like and thats the GST and thats about it there was one bag from Prada that i also loved too but that wasn't to my taste in the end, I stumbled across that my cousin had this amazing bag and i thought that bag was stunning and it was huge and i looked at it and it was from a brand called Mulberry! I looked at the prices and i thought that isn't to bad for a good quality handbag and also you can make it big too. I tried so many times and attempts to try and save for this bag and in the end i couldn't do it so i looked on eBay to see what was on there, I saw a another bag that the signer Frankie from the Saturdays had and it was a most amazing bag that i had seen and i wanted one so badly, The bad thing was that the bag was no longer on sale as Mulberry stopped making them and i had to turn to eBay to get one. In the end after 6 months of looking a seller on eBay agreed that they would accept so much for the bag and in 2013 my dream Mulberry Tillie bag was with me and it was the most amazing bag that i had bought in my whole life.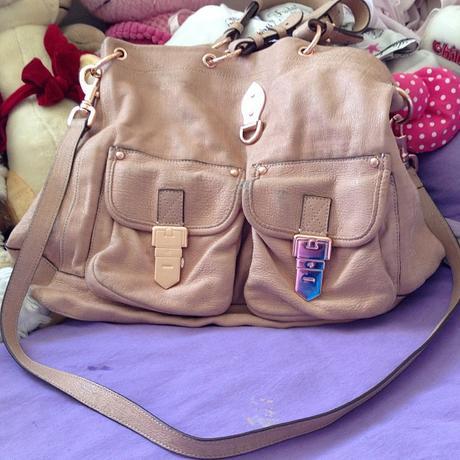 My Mulberry Tillie Tote Bag In Dusk Pink Witch I Have Owned Since 2013
The bag was one of the best that i have spent my money on and the color i had suited me very well, The bag of course was a real Mulberry as i checked all the information and paper work when the seller showed me and my mom had a go at me about me buying the bag and i explained that this bag will last me a lifetime and it will never ever break and fall to pieces ever. I do remember that i had to go without food for almost 2 weeks when i bought this bag and i don't know how i managed to do it but i managed and coped very well.
Once i had one of my first designer handbags i wanted to own more stuff from Mulberry and when i asked my mom to get me some things from them she said that she wouldn't waste her money on buying anything from a bag because you are just paying for the name and thats not the case at all, You are paying for the time and the all the hard work that goes into each Mulberry bag and of course all the workers and the quality of the leather too. There has been a few bags that i have had my eye on for a while now and that has been a Mulberry Tillie satchel and the icon Bayswater bags, With eBay you have to be very careful and do your research before buying on there because some items are fake and with me i know when i can spot a fake Mulberry item in seconds on eBay,  
You can pick up some good bargains on there when it comes to vintage Mulberry items like i have had in the pass but you must do your research and watch out for the fakes.My next 3 Mulberry items was the Extra large Tote Bag That Was In White and that was about £50 and i gave that one away because it was to big for me and the color white doesn't last five seconds on me, And i had a few of the Roxanne bags and i had one in White and brown and to tell you the truth i wish that i kept them because they was nice bags to own in my collection. 
I have also bought one of my other dream bags that i had wanted for a while and that was the Tillie Satchel to go with my other one and that was so hard to find one and in the right color too, There was so many colours when they did the range and the sizes too i just didn't know what i wanted at all. Originally i was gonna have the dusk pink satchel and found that i didn't want two bags the same color and plus my Tillie satchel needs a good clean now as i have been using it for so long that i decided that i would have a new color for a change,  
I loved the design of the Satchels and it was gonna be a perfect bag for me I didn't feel keen on a big bag because my other bag was sometimes really hard to carry because of the weight of the metal and it also hurt my shoulder so a small cross body bag was all that i wanted, I ended up seeing some on eBay and i saw one that had no bids on it and then as i was bidding for that one a dusk pink one came up and i asked or a best offer prince and as i didn't accept that offer i lost the bag, But i ended up getting a much cleaner and unused satchel for a fraction of the price witch was amazing
,
New Addition To My Mulberry Collection Mulberry Tillie Satchel Chestnut / Brown April 2016
I was so happy when this bag arrived and it was the perfect size for me and also i could wear it across body too, The bag does have some stains on the front but i can easily get them off with some cleaner witch i need to get but apart from that the bag is amazing and i love it very much, The bag is the small i believe but you can still get quite a lot in there when you come to think about it and it isn't to heavy at all to carry in your arm witch was good.At this current stage i am starting to save for a New Mulberry and i do want the Bayswater bag but i don't know what color as yet because there are so many choices, I have seen that the Bayswater Ledbury witch is a smaller version of the Bayswater and i kinda liked that too, 
The thing is will i keep up with it and put money away each time i get paid into a account and not spend it ??I have made some plans that i have decided that i am gonna start saving at the end of May 2016 and open up a savings account with my current bank account and not have a card for that account so i cannot just go and withdraw it and waste it, And i will have so much taken from my current account each month that will go into my savings,I do know that it will take me until 2018 / 2019 to get this bag but i am always gonna take a look on eBay to see if i can get anything cheaper without waiting for 2 years of me saving up for one, Its gonna be hard for me and if you want something so badly you will save for it.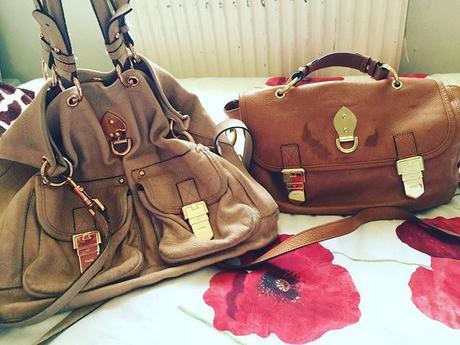 My Two Mulberry Tillie Bags From There 2011 Collection The Tote & The Satchel
At the moment i am still buying stuff from eBay if i can find it at a really good price and my next item will be the matching Tillie purse to go with my bag or a new long locked wallet it all depends on whats about when i get on to eBay!
Love Rianna X