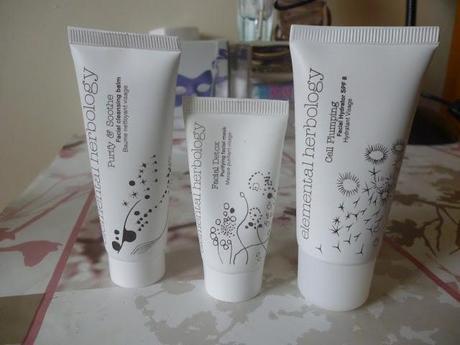 I am blaming Jess (Spoiltface) for my new love of Elemental Herbology, as she is always raving about their products. I have several samples in my stash for a while and thought it was about time I shared my thoughts on them, especially as I have heard such great things.
Starting with the EH Purify & Soothe Facial Cleansing Balm, this is a thick balm that you have to really work in your hands to warm up before applying to you face. The balm contains some lovely ingredients like Marshmallow Extract, Cocoa Butter, Argan oil, Sesame Oil and Chamomile Essential Oil. These all help to cleanse the skin while still keeping the skin soft and hydrated.
I apply the balm to dry skin giving my face a quick massage, I then take a warm damp flannel to remove the product. This leaves no residue and leaves your skin feeling super soft and clean without making your skin feel tight.
The Facial balm has a lovely herbal scent which I really like but can imagine it might not be to everyone tastes.
(This retals for £28 for 75ml)
When I am giving my skin a pamper I then follow the balm up with the EH Facial Detox Purifying Facial Mask. This mask is clay based, that helps to decongest pores and reduce excess sebum. It contains Essential Oils of Eucalyptus, Cedarwood, Lavender and Rosemary help to balance sebum production as well as Manuka Honey, Aloe and Calendula to help soothe the skin.
You leave this mask on for 10 minutes then remove with a flannel, I then tone and moisturise as usual. This is a fantastic mask and from first use my skin felt less oily as well as looking clearer.
(This retails for £27 for 75ml)
Lastly is the Cell Plumping Facial Hydrator SPF8. I have been using this most days as my day time moisturiser and my skin has been really loving it. Considering it is a hydrating moisturiser the texture is light and sinks into the skin instantly. The Facial Hydrator has Rosa Mosqueta, Argan, Sacha Inchi and Evening Primrose Oils in which helps to plump, moisturise and nourish the skin. Even though the SPF in it isn't very high I like that its in there to give me some protection. This is aimed at drier skin typed but I think most skin types would love this especially while the weather is cold.
(This retails for £42 for 50ml)
As you can tell I am loving these products and I can't wait to try more from Elemental Herbology. It seems like such a great natural brand.
Have you tried anything from EH before? I would love to hear your recommendations.