I decided to write a new series. I was in a  celebrate recovery group and  talking about feeling "helpless". It was a process for me to discuss in group, because as soon as I  spoke about why I tend to feel worried and  procrastinate on some things, I realized that  This vulnerable space I often feel between  not worrying and trusting God  causes me to  feel way too vulnerable.
I Am Enough , Because I Am Strong. 
strong:
postive energetic, secure fixed,
negative: feeble, unhealthy, weak
I am enough because I am strong. I didnt always know how strong I was. I sort of found out after I ednured a few things and managed to still come out shining. I remember a time of feeling as though the whole world was caing in around me. I really didnt know what to do, and becuase I was a counselor, and felt like I should have all the answers, I decided not to ask for help. HUGE MISTAKE. I decided later on in life, that not admitting I was struggling, led me to being in denial. And I found that denial leads to futher isolation and a lack of support.
So what is support, and how do you know when you need it?
Well, let me first inform you that every one needs support. The challenge is in recognizing what kind of support you are receiving is genuine. You know you need support when you cannot do things on your own. When you start making mistakes over and over again, and there seems to be no way of knowing where you are headed this may be an indication you need help. For many, the pattern of not receiving help can lede actually to more complications and more thoughts that fool you into believing that you are not strong, when you really are. Some have been harmed when they thought they believed others were being supportive, and they were let down. That's because you may have been confused about the type of support you needed and had no idea how to clarify with others and define your values in terms of the type of support you really needed.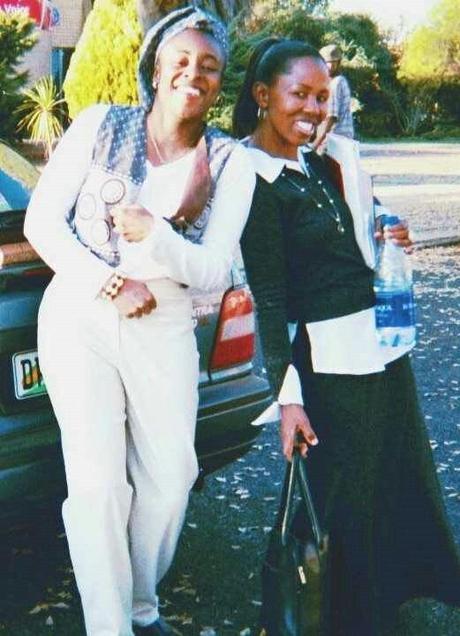 This woman above – Keneilwe, supported me in my strongest endeavor I have ever purposed to be strong in, in my life. What gracious support. She only knew me for 36 hours.
What kind of support do you need? Take a look at the kinds of support below and make an evaluation of what you need:
Types of Emotional Support
Acceptance
Encouragement
Validation
Listening
Trust

Types of Social Support
Companionship
Share Fun or Hobbies With.
Interests you may have in common with others
Relational Support
Accountability – Someone who helps you to keep the main things in life before you, continually.
Intellectual – Someone who is interesting to talk to.
Communal Support – Support that may be with a group of people with whom you engage in common interests.
I made a significant life decision after I divorced in 2005, to move to a community where I knew a few women lived who had an awesome girlfriend community. That decision changed my life. Not only did it strengthen my relationships with women, it helped me consider the kinds of friend I wanted to be with others; and determine the kind of people I needed to have around me in life, to thrive. I decided then,, these people must be strong. They must have good character, they must trust, they must love unconditionally, they must be postive-minded and they must be hold me accountable to being the best person I can possibly be and they must be encouraging.
Once I made this determination about what kind of friendships I needed, I was able to feel more confident about the friendships I chose, and cultivate a better social life. Not often do we think of cultivating friendships. Yet our friendships are those who often give us the most support. In turn, they also help us to manage our life supports better and remain strong.
If you enjoyed reading  this series and would like to  read the extended version, Click here for more information.