On Sunday afternoon, I had an absolute ball modeling in a runway show at the launch of Brisbane brand Jericho Road Clothing's latest collections.
When JRC founders Kate and Chloe asked me to be involved in their Spring launch, I jumped at the chance.
And then they dropped out a clanger ... would I be willing to wear their new, never seen before (or talked about) one-piece swimwear on the runway?
I was flattered and terrified. And vowed to stop eating cheeseburgers for the week before - which did not happen.
Four days before the show, I found out that not only was I wearing the swimmers, but I'd be the first one to hit the catwalk in them.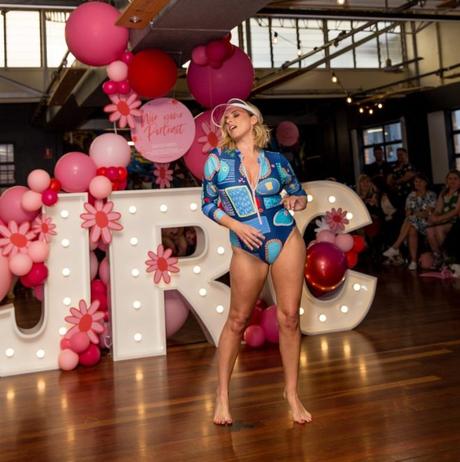 You can judge for yourself here, but by all accounts , I rocked it (and clearly in the above photo I was totally loving myself and thought I was the ant's pants).
I don't really remember much of it because it was a bit of blur, but I know I wiggled my bum in my friend Jes' face. A moment someone managed to capture on camera.
Glorious.
As videos from the event were uploaded online for all to see, I shared them on my Instagram account and soon comments began to slide into my DMs.
People loved watching me sing, dance and strut my way down the runway; stopping to hand out flowers, wave into cameras and wink at my friends.
They loved the colourful collections that are coming this Spring, especially the swimwear.
However, there was one common comment that left me confused, and really didn't sit well with me.
"You are so brave."
Come on, ladies.
It was bold to strut around in swimsuit given I was nowhere near a pool or the beach.
And probably ballsy to wiggle my bum around in a room where at least one quarter of the people had iPhones pointed my way.
But was it brave? I don't think so. Not to me, at least.
The Cambridge English Dictionary defines brave as "showing no fear of dangerous or difficult things. To deal with an unpleasant or difficult situation."
Wearing swimwear and dancing around a room to the hit song ' Kiss My Fat Ass ' by Sheppard does not make the list.
'Brave' belongs to the children undergoing painful medical procedures to treat illness.
To the women and children fleeing domestic violence in search of a better, happier life.
To the firefighters and emergency services personnel who have put their own lives at risk to fight the bushfires ravaging my great state.
It does not belong to me simply because I wore swimmers and posted it on Instagram.
It may be bold, but it is not brave.
Sure, I'm not your 'typical' swimwear model; I have thighs that touch, a core made of marshmallow and my butt hasn't felt the pain of a squat for at least three years.
(Although there are a lot of brands using women of all sizes as part of their swimwear campaigns. Check out Active Truth, Lilly & Lime, Sequins & Sand, Ellenny Swim etc)
I understand that many women wouldn't be comfortable doing what I did and that's why they may feel it is brave.
I posted the photos I did because loving all of myself is still a bit of a work in progress. Let's face it, we are our own worst enemies.
To me what I did was ballsy.
Plucky. Daring. Audacious. Bold, not brave.
I love that everyone loved seeing me strut my stuff with no pants on. I love knowing I have a community of women who will cheer each other on when they step outside their comfort zone or do something that makes them uncomfortable.
That's how we grow.
And hell hath no fury like a woman if someone negatively comments on her friend's body. But we do it to ourselves ALL THE TIME.
I know it's not an easy habit to break. You have to take it day by day.
But this summer, I beg you to remind yourself, and your friends, that all you need to have a beach-ready body is to put on swimmers and GO TO THE BEACH!
Don't think about what size is written on the tag. Don't think about what bits may jiggle as you run across the hot sand (or dance around a room full of friends and strangers - yeah, it's easier said than done).
This summer, be bold.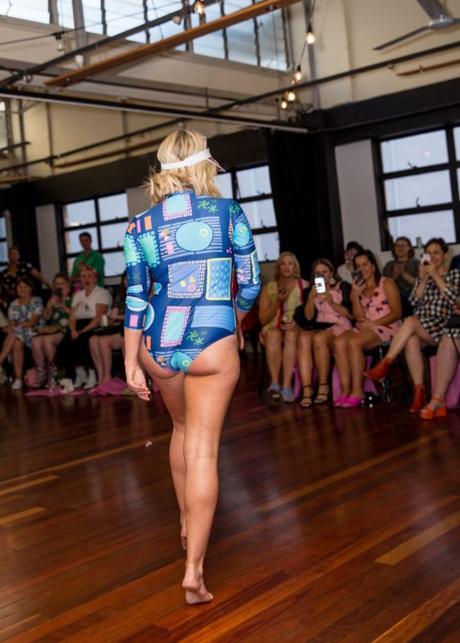 Photos by Kate Luke Photography.