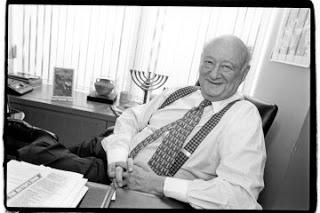 Mayor Ed Koch died at 88 a few days ago and I became quite nostalgic. Koch was mayor when I was living in Manhattan 1982 to 1988. He was the first American big city mayor I ever knew so he became the model I compared all my subsequent Mayors to.
Mr. Koch was New York's most colorful mayor since Fiorello H. La Guardia. He was extremely popular, a consensus mayor and always reached across the isle. Re-elected in 1981 with 75 percent of the vote, he became the first mayor in the city's history to get both the Democratic and the Republican nominations. He then was elected in 1985 to a third term, with an amazing 78 percent of the vote. Only two other mayors in modern times, La Guardia and Robert F. Wagner Jr., had achieved a third term.
He crossed party lines to support Mr. Giuliani in the 1993 mayoral election. Mr. Koch endorsed Mr. Bloomberg's successful races for mayor as a Republican (soon-to-become-independent) in 2001 and 2005, calling him about "as Republican as I am."
He joined the Bush-Cheney re-election bandwagon in 2004 and promoted the Republican National Convention in New York.
Over time, many New Yorkers, especially the middle class, came to accept him, and relish his impish candor and straight talk to both sides of any spectrum.

 

He had always been frank with them to a fault. At various times he provoked the wrath of Jews and gentiles, business and union leaders, blacks and whites, feminists and male chauvinists. He vilified his Tammany foes as "crooks" and "moral lepers," good-government panels as "elitists," and black and Hispanic leaders as "poverty pimps".
The old liberal embraced Reagan's creed on reliance on self-help. He wrote columns for The Post, The Daily News, as well as the right-wing Web site

NewsMax.com

. He made regular appearances on WCBS-TV and had talk shows on Fox television. He teamed with former Republican Senator Alfonse M. D'Amato for a Bloomberg Radio show.
Too much if you ask me was written and speculated about his sexuality and here again he reached across the isle too: "I happen to believe that there is nothing wrong with homo-sexuality," Koch told WMCA. "It's whatever God made you. It happens that I'm heterosexual…" Placards sprouted in the 1977 mayoral campaign saying: "Vote for Cuomo, Not the Homo".

In 2009,

Koch puckish as ever told The New York Times' Sam Roberts

: "I'm flattered that at 84 people are interested in my sex life — and, it's quite limited." The Village Voice's Musto wrote "Poor Ed Koch Died In The Closet."
Besides politics and sex, Ed Koch also reached across religions. When asked by Timothy Cardinal Dolan how come he usually attends the Midnight Mass on Christmas Eve, Koch told him: "I am the Jew in the front pew!" In 1989 he wrote the book: His Eminence and Hizzoner (His Honor). Even though out of politics for a long time, he made sure to shake the hand of the visiting Pope Benedict XVI. Finally he bought a burial plot at Manhattan's Trinity Church.
This ecumenical approach reminds me my childhood in a Lebanese Jesuit school where all different religious representatives were invited to the Sunday mass: Sunni Imam, Shia Mufti, Orthodox priest, Jewish Rabbi, Druze Sheikh etc. This made Ed Koch a bit more special to me
Hizzoner's

main slogan to the people was:

"How'm I doin?"  and all his life he fought the question: "Who'm I doin?"