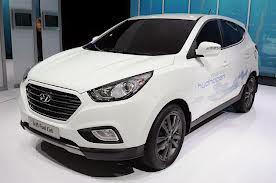 The European associates of Hyundai, the world's fourth largest automobile manufacurer in the world, apparently believes that showing a man trying to kill himself in one of their vehicles is actually good for marketing. The ad is called Pipe Job and was created by the agency Innocean Europe. It depicts a man taping a hose from a Hyundai ix35′s exhaust pipe into the cabin fo the car, trying to commit suicide. It then shows the man sitting in the cabin, waiing and waiting and waiting for death to claim him.
A few frames later, the garage lights come back on and the man opens the garage door. The tag line is; the New ix35 with 100% water emissions.
I was appalled when i saw this by accident. I was toying with the idea of buying one of these cars but there is no way that i would do so now and I hope that I am not alone in this. Can you iagine how a person with a mental illness feels when he/she sees this advert? I thought that people worldwide were aware of speaking and behaving politically correctly nowadays. What were the owners and managers of Hyundai thinking when they allowed this and how could an advertising agency behave in such a callous way, insulting people with mental illnesses or other disabilities?
I am not including the video that goes with this report as it is too shocking and the last thing I want to do is add insult to injury to any handicapped person. I have been blogging for well over a year now about mental illness, Alzheimer's disease and other brain illnesses and handicaps in order to try and get people to speak out about them which in turn will lessen the stigma associated with these heartbreaking illnesses. I was under the impression that the public's understanding of mental illness was more wide-spread and that there was a little less discrimination nowadays. I have written about the way journalists depict suicides in the media and even this can raise the suicide rate temporarily – which is known as suicide contagion. I wonder whether the advertising agency ever gives a thought to this subject.
I saw a report today saying that Hyundai Motors America are shocked by the depiction of a suicide attempt in an inappropriate U.K. video depicting one of their cars.
Only this morning I posted a blog called ' you have holes in your head, Jill,' and on the same day, due to the holes in my head, I was in a hurry as usual and hit the wrong button so my blog flew off and was posted. Then, to add insult to injury, I did something else wrong and the whole blog was deleted after some of you have already commeted on it so I hope the rewrite is almost the same. I will try and be more careful and slow down.