I was on Twitter a few weeks ago and I saw something in my feed about a company called HydraKlick. Of course I started following them so I could find out what it was all about and now that I've had some contact with them and have gotten a little more information, I thought I'd post on it so more of you can learn about HydraKlick.

A little about HydraKlick - they believe that running should be fun, and this is the basis of why they take their product development so seriously. The company, HydraKlick, was founded by a long-time product developer and competitive runner who wasn't happy with the performance of the hydration products and running gear on the market.
HydraKlick found - just as many runners have found - that most hydration belts didn't stay in place, that the bottles sold with the hydration belts were difficult to remove and replace. They also found that those handheld bottles threw off our running form and that the armbands out there on the market were uncomfortable and awkward. HydraKlick believed that there had to be a better way to carry water, fuel, phones, music players and anything else a runner might need - and so they began!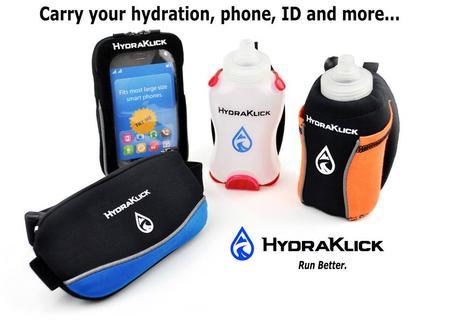 Whether you're jogging to stay in shape, training for an event, or looking for an edge on race day, HydraKlick makes products that help you run better. Their products include water bottle, water bottle sleeve and the sport clamp that makes the water bottle hands-free, water resistant mobile phone carriers, and three different styles of sport pouch belts that can certainly accommodate everyone!

So, basically it's like this: HydraKlick needs our help to get this thing going! The launch of the HydraKlick line of running gear is nearly underway. After two plus years of designing, engineering, prototyping, testing, tooling, and manufacturing first samples, they are finally ready to release for production. Extensive amounts of time and resources have been deployed to create premier "hands free" running gear to help you run better.
Running Health LLC requires additional funding for the first mass production run. That is where you come in and help fund the production components by pre-ordering and sharing with other fitness enthusiasts. Please watch the video below to learn the unique features, and visit www.HydraKlick.com to sign up for the newsletter to receive updates when pre-orders begin. HydraKlick greatly appreciates your help to make their dream a reality.
Be sure to check out HydraKlick's website, and connect with HydraKlick on Facebook, Twitter or Pinterest too!
Please make sure to visit my homepage and subscribe to my blog for more great posts on running, fitness and lifestyle topics as well as food, product, music and book reviews, and more!