Today I am blogging about the ever famous,signature dish of Andra pradhesh-Hyderabdai dum biriyani(vegetarian version of course). As most of you know,I am a part of the wonderful group SNC,brain child of Divya Pramil,where two set of people challenge each other with north and south Indian recipes ech month.This event has completed its first anniversary and going strong :). To celebrate the ocassin Divya has asked to choose any recipe those have challenged so far,cook and blog about it.I joined this group just 3 months back,and when went through the collection of all the challenged recipes so far,I was really hooked.I couldnt just zero on 1.Each one seemed equally good,anf finally I decided to go with this amazing biriyani,given to the climate and the availability of ingredients.This biriyani was challenged by Swasthi,who owns a very versatile blog with healthy recipes to the northen team.The recipe was so very clean with minute detail and self explanatory pictures.With her recipe I was able to make a pretty decent biriyani,given to the point this is my first attempt.Thank you Swasthi for the recipe and Divya for this chance.Now lets go and dig in some hot and spicy biriyani :)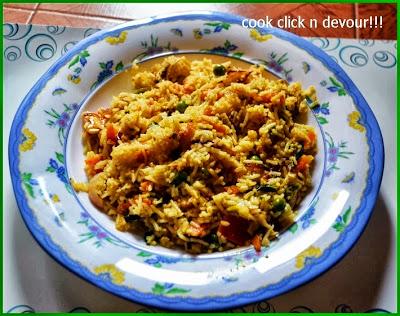 Hyderabadi dum biriyani(Vegetarian)
Star ingredients:basmati ice and mixed vegetables
Time:1 hr
Serves:3

I have adapted Swasthi's recipe and changed the proportions of spices as we like our biriyani mildly spiced.
Ingredients:
1 cup basmati rice
2 carrots peeled and cubed
2 potatoes peeled and cubed
2 baby corns chopped
1/4 cup green peas
1 cup thick curd
2 green chillies sliced
1 tablespoon finely chopped cilantro
1 tablespoon finely chopped mint leaves
10-12 cashews broken
1 teaspoon ginger-garlic paste
3 teaspoons biriyani masala 
1 teaspoon turmeric powder
1 teaspoon chilli powder
Salt
Oil/ghee 
Spices
2 cloves
1 bay leaf
2 green cardamoms
2 black cardamoms
1 teaspoon shai jeera
1 teaspoon cumin seeds
Method:
Fried onions
Slice the onions into thin vertical strips,mix with little corn flour and fry in a tava until it turns golden brown.Set aside



Fried cashews:
In the same tava fry the cashew pieces till golden brown.Set aside
Cooking rice:
Soak the basmati rice in water for 20 minutes,drain and pressure cook along with 1/4 teaspoon shai jeera,one clove and cardamom for just one whistle.The rice should be cooked only till 3/4th.
Making biriyani:
1.Heat a kadai,ad one teaspoon oil and saute all the spices till nice aroma come out.Add ginger garlic paste and saute till raw smell goes off.
2.Next add all the vegetables except peas and cook for 10 minutes.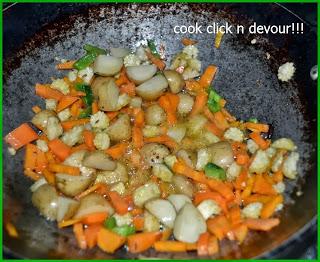 3.Add the peas and saute for 3-5 minutes.
4.Add biriyani masal.turmeric and chilli powder.Mix well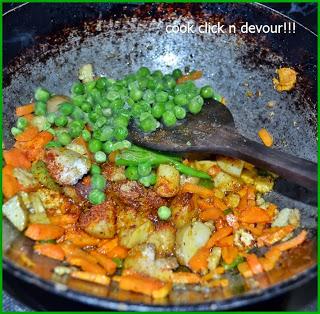 5.Add curd,salt and mix well.Cover and cook till all the curd is absorbed by vegetables.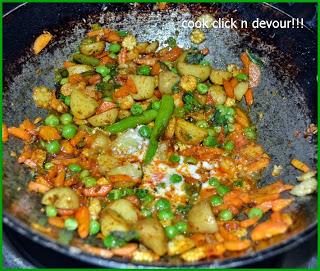 6.Now take a deep kadai and add cooked vegetable and rice layer by layer.Top with cashews,fried onions and close the lid.Put under dum by placing a heavy object on the lid,lower the flame and cook till the rice is completely done.


7.After rice is done,mix in the layer gently and serve hot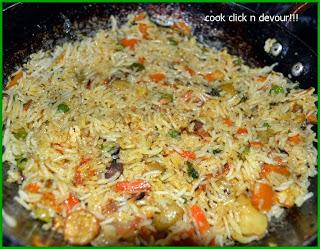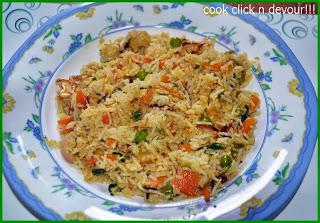 Notes:
1.Saffron soaked in little milk is traditionally,but I did not add.
2.You can also add raisins along with cashews