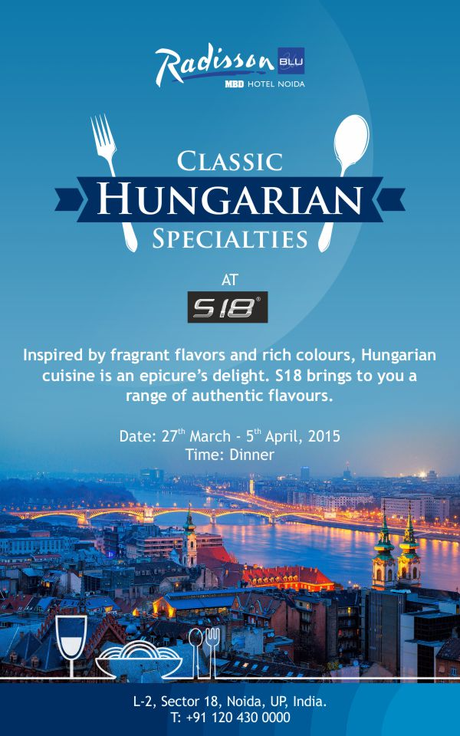 I was very skeptic when I was invited at Radisson Blu MBD Noida for Hungarian Food Festival as I had no knowledge on this cuisine. However, I decided to go with open mind and it turned out to be one of the finest meal I had after a long time! 
I have always believed that the food at any restaurant, is creation of Chef and his team and if you pay attention during your reviews, your experience will always be memorable. I always do that with every meal – There is always something that I have gained with every meal ( No – I AM NOT referring to my weight! :D  )
 I tried and observed as much as I could during my interaction with chef.  If you spend 3 hours, chatting with Chef, the experience is always fantastic.  All thanks to Executive Chef Rajesh Variyathand his company, we indeed had great time.
He has been associated with Radisson Blu Noida since nine years. Prior to Radisson Blu, he has worked with Oberio hotels in various capacity and interestingly he has worked under German chef as well and continental cuisine is his favorite cuisine.
Hungarian cuisine is similar to German cuisine that means there is hardly any scope for vegetarian people. Hungarian people are very passionate about their meats, stews, steaks, roasted pork, and beefs. Many meat dishes are dipped in bread and then baked or fried. Hungarians also prepare many different kinds of sausages. The Hungarian national dish is meat stew. Other staples of Hungarian cooking include onions, cabbage, potatoes, noodles, and caraway seeds. Both cream and sour cream are used heavily in Hungarian food. It becomes difficult for chef to prepare dishes for vegetarians in these kind of food promotions. Also for the reason that even the broth are either made of beef or pork.
Iinspite of limited scope for vegetarian , chef created some dishes and they were really good specially Krumplileves ( soup made out of potato) and in the main course Fozelek( thick vegetable stew made of assorted vegetable). They have used Hungarian paprika which makes a lot of difference. The stuffed cabbage too was delicious!
For non-vegetarian there were  lot of options, starting from grilled chicken,  lamb and Pecseyne(thin pork steak served with cabbage) and the famous Hungarian dish Goulash stew( also known as Szekelygulyas) -  thick soup or stew and can be made of any meats - dish that is a unique and intriguing, DELICIOUS!
They have wide range of Hungarian desert and out of which I loved the Malna Piskotatekercs( which is raspberry creame roulade) and Sutemeny Rigo Jancsi( Hungarian chocolate mousse cake)
They have every day changing menu and the festival is on till 5th of April only( for dinner).  I strongly recommend that you must try and also spend some time with chef to understand about the cuisine. After this interesting dining experience I was tempted to read more on its history –
http://gotohungary.com/traditional-food. Chef has artfully adjusted our gastronomy without losing the uniqueness of traditional Hungarian cooking.