On Sunday, hundreds of workers protested on the anniversary of the approval of labor law. In this video we see workers from Tabriz chanting "minister without competency, resign, resign". According to Azoh news agency thousands of workers had participated on the demonstrations

On the same day 3000 workers , according to ILNA (Iranian Labor News Agency), 500 according to Fars news (next to Revolutionary Guards / Sepah), gathered in Tehran in front of Iran Parliament.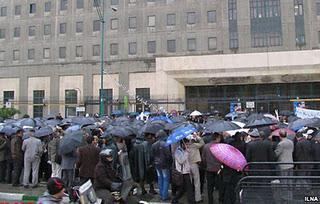 Photo from Tehran
While the Green Movement was very silent in the last months for many possible reasons, the economical dissatisfactions are raising rapidly in Iran. Specially the worker class is feeling the pressure. The question is, if the main part of the Green Movement, namely the middle class,  joins the workers' demonstrations in the future or if it goes it's own way.