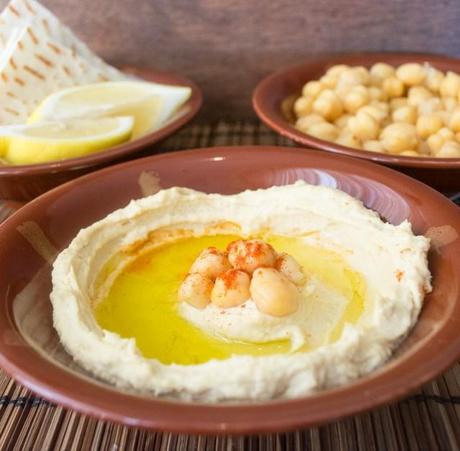 Hummus is the heart of all Lebanese food. It is the heart of mezze. (If you have no clue what on earth mezze is, check this link from David LeBovitz, no one can articulate food better).
I think chickpeas are being abused. While I was browsing Pinterset seeing what other people to hummus I was astounded. guacamole hummus, pumpkin hummus, peanut butter hummus, no tahnini hummus, carrot Hummus,  and of course, nutellla hummus (it seems there is a nutella recipe for everything these days). This recipe is not about all of these. It's not about inventing a new flavor combination with chickpeas. Its about plain, simple hummus b tahini, the way Lebanese people have been eating it for ages.
In Arabic, the meaning of Hummus is chickpeas. But in this foodie blogsphere, when someone says hummus, they are usually referring to hummus b tahini dip, not just chickpeas. You say hummus, I say hummus b thini.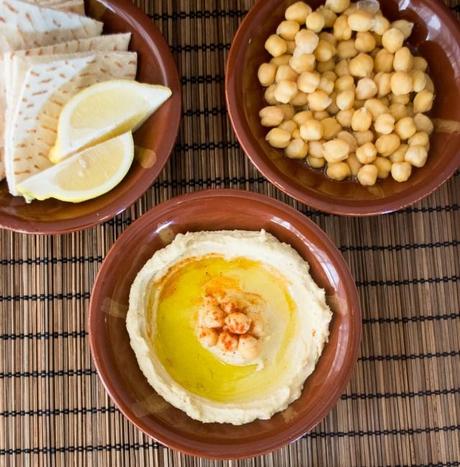 Canned hummus is ok for some, but I honestly don't like the texture or taste of canned food.
Here in Kuwait near each big supermarket has a small shop that sells freshly cooked beans, chickpeas, corn, etc.. the only thing is that these shops usually sell the boiling hot chickpeas in white plastic container (hint: plastic + heat= not healthy) that is why I always along my heat proof glass Anchor container which has a  BPA proof lid to the shop and ask the guys there to put my chickpeas (or whatever am buying) in these containers. Another fellow blogger from Kuwait, Danderma, recently shed light on this matter, which made me happy because obviously am not the only one who is concerned about the plastic containers used.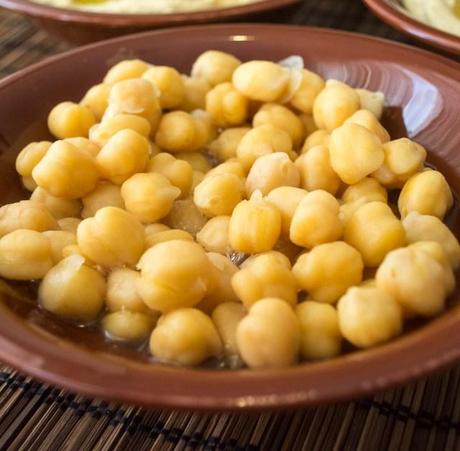 If you are using dried chickpeas, I usually cook the chickpeas this way:
Clean the chickpeas. Rinse in cold water. Soak overnight, make sure the water is at least twice  the amount of chickpeas.
Add baking soda. I use the ratio of 1 teaspoon of baking soda per 2 cups of water (500 ml). Don't be tempted to add more else the chickpeas might taste soapy.
When ready to cook the chickpeas, rinse the chickpeas then place in a saucepan of clean water (do not use the same water used previously for soaking).
Bring to the boil for at least 10 minutes, then let simmer (covered) for 2 – 3 hours.
Do not using bicarbonate of soda in the cooking water else the chickpeas will be very soft and might taste soapy..
Do not add salt to the chickpeas unless the chickpeas have softened, else they will take longer to cook.
If you want to ensure the smoothest hummus, Of course you could always peel the chickpeas, as Deb from Smitten Kitchen suggests. But frankly, I have better things to do with my time. Plus I've spent a mini fortune on my thermomix, which makes superior hummus b tahini paste, with minimum effort.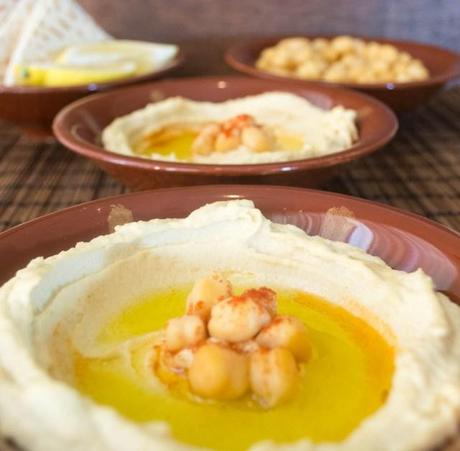 If you  have a thermomix (I do) you're in luck. Making smooth hummus is the easiest thing in the world. You'll never have another grainy hummus again. Its all silky, smooth, and velvety hummus from now on. All in less than a minute. I honestly don't know how I used to live without the Thermomix.
Hummus b tahini pairs great with barbequed food.  In Lebanon, its almost impossible to have a barbeque without it.
Print Hummus
Prep Time: 15 minutes
Cook Time: 2 hours
Total Time: 2 hours, 15 minutes
Yield: Serves 2 - 3 persons
Ingredients
1 cup (250g) cooked chickpeas (cooled)
1/3 cup (90g) tahini paste, or to taste
juice of 2 lemons, or to taste
1 garlic clove*, peeled and crushed
1 tsp sea salt
2 -3 ice cubes
Topping**
Sweet paprika
Extra virgin olive oil
Steps
Place the chickpeas, tahini, and lemon juice in a food processor until very smooth, add the garlic, salt and ice cubes. Processor for two more minutes. Transfer to a bowl. Taste and adjust the seasoning to taste.
Thermomix
Place the chickpeas, tahini, and lemon juice in the bowl of thermomix. Mix on speed 5 for 15 seconds until smooth. Use the spatula if needed. Add the garlic, salt and icecubes. Process for 10 seconds, speed 7. Adjust seasoning to taste.
Hummus is usually served in shallow serving dished, with a swirl. Spoon hummus into the shallow dish, use the back of a spoon to spread it across, use a 45 degree angle to make sure the edges are high and the center is slightly higher.
Drizzle (generously) olive oil and sprinkle with sweet paprika (or other topping of choice). Serve with pitta bread.
Notes
* Do not use garlic in hummus if you are planning to freeze hummus as the garlic will change taste. **Other topping ideas: Parsley, pomegranate, cooked minced meat, chili powder, toasted pines.
Schema/Recipe SEO Data Markup by ZipList Recipe Plugin2.2http://sukarah.com/2013/07/hummus.htmlSukarah | http://sukarah.com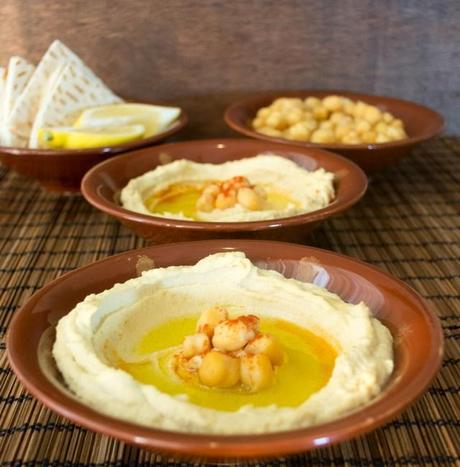 If you enjoy Sukarah's posts, please like us on Facebook, follow us on Twitter, or follow our pins on Pinterset.
Don't forget that to subscribe for Sukarah's RSS feed to receive notification whenever there is a new post.
So, what's you favorite Hummus recipe?