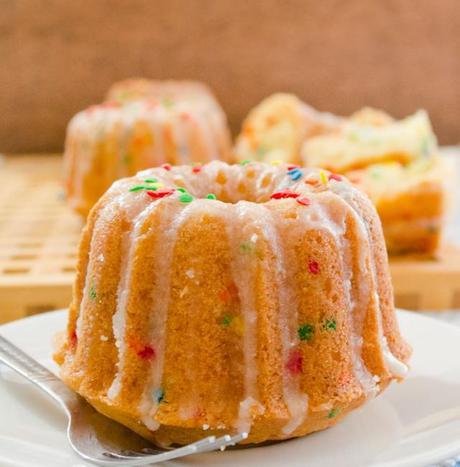 Few things can make me feel better than a funfetti cake. A funfetti Bundt is one of them.This cake was made to celebrate the birthday of our budtamonth group.  As you may or may not know about me, I always celebrate special occasions with funfetti. I find it feeds my inner child who is always looking to satisfy her sweet tooth with fun colorful rainbow colored cake.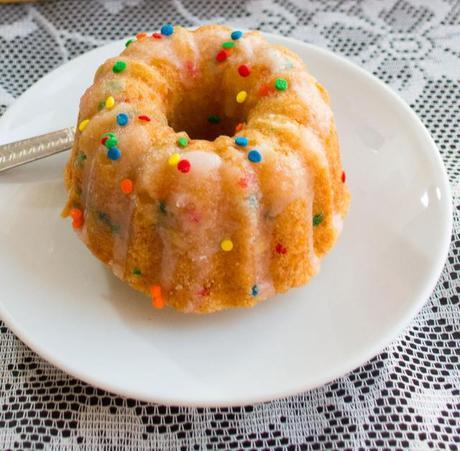 There are many reasons why Bundts are perfect cakes. Firstly, it's just one cake, no layers that requires frosting. Its also baked in one pan without the need for any water bath, baking strips, or any fancy special aid tools. Furthermore, they look very sophisticated, though they require minimal decorating skills. There are all sorts of Bundt shapes, the
Original Platinum Bundt Pan
,
Fleur De Lis Pan
,
Elegant Heart Bundt Pan
, and my favorite,
Heritage Bundt Pan
… Up until last week, I really thought that they were the cutest thing ever. But then discovered something new. Its called mini Bundts. When I saw the 6 cavity
Platinum Bundtlette Pan
, it was love at first sight. I knew that this pan belongs in my kitchen. Storage is a major issue in my very tiny kitchen, but what the heck, YOLO, which means in my world, eat all the cake I want and buy all the baking pans I like. I mean, come on who doesn't have a place for one extra pan? My dear husband rolled his eyes on me when I got it, claiming that I don't need more pans, but as you can see, in the end I won (as I always do

) and this little baby came home with me.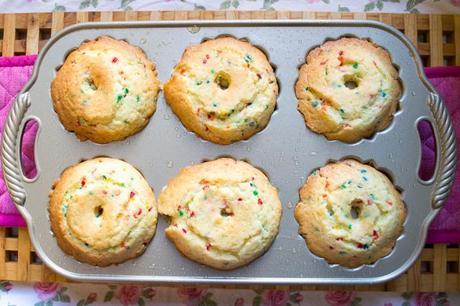 This was probably the best money I spent in September. I love, love love, that its a perfectly proportioned mini Bundt, meaning that no slicing is required and everyone gets their own little cake to enjoy.  I'm OCD with that I do not like to slice a Bundt cake. I can never seem to be able to slice equal portions that look perfect no mater which route I take to slice it, it's just not perfect enough. These bundlette solve this problem. They look perfect, all you need to do is invert the pan, drizzle something (optional), serve and enjoy.
Its even cutter than a cupcake.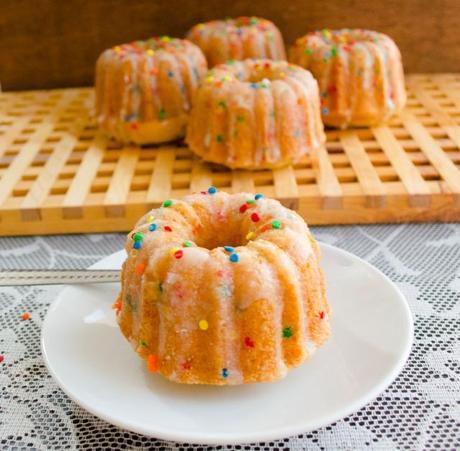 Compared to cupcakes, these are easier to make because they require no after work (aka frosting). Honestly, am just not a huge cupcake fan. Am probably the only person in the world who is not crazy about cupcakes. It's OK if you like them, cool, I understand. Let's just pretend that you never read this. Am just not on the same boat. I especially hate decorating cupcakes with overly sweet frosting, and worst, I hate peeling that useless paper liner off.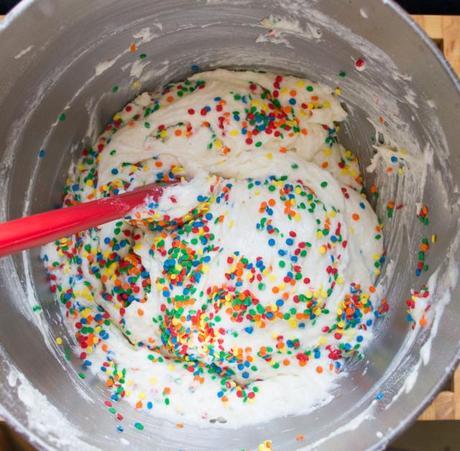 Allow me to tell about these delightful funfetti lemon Bundt cakes.This cake will make anyone's day. If you want to spoil someone into an unforgettable treat, make these. Say you woke up on Monday morning and saw the alarm on your smart phone reminding you that today is your father / husband / bff birthday! There is no need to panic or rush to the supermarket to buy a cheap store bought cake. These mini funfetti Bundt cake will come to the rescue. I know what you're think, these things take time to bake? Well no. they don't. Thanks to the fact that these are mini Bundts, they only take 20 minutes to bakes. Some large Bundt pan  can take up to 90 minutes to bake. Since there's no frosting required, so its just baking time, cooling time, drizzling time and eating time. Don't forget to sprinkle some extra sprinkles. Congratulations you've just made a fun funfetti confetti lemon cake.
P.S. I suggest using Pam Baking Spray. I never trust non stick pans and always prefer to be on the safe side.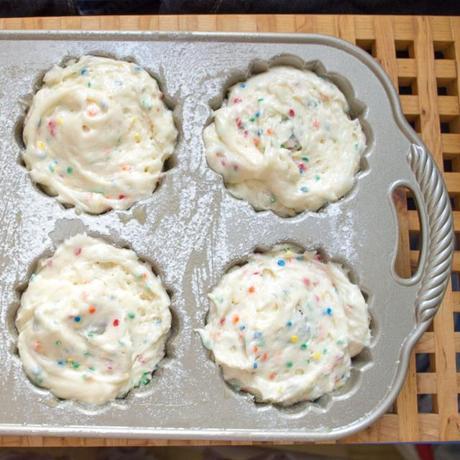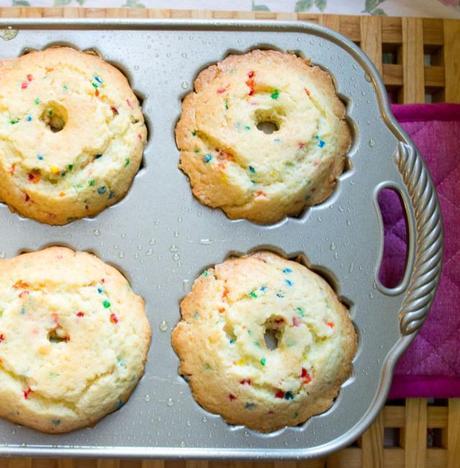 These little mini cakes you see above are:
Totally worth the calories
A work of art
A perfect finish to any meal
A true baking masterpiece
This recipe makes exactly 6 mini Bundts. Or one small regular Bundt cake. If you have a lot of guests coming over, or you're just feeling extra greedy (totally normal), the recipe can be easily double to make a dozen, you can even bake them into cupcakes (good luck with the frosting). Whatever you do, please make these.
Print Funfetti Mini Bundt Cakes
Prep Time: 20 minutes
Cook Time: 20 minutes
Total Time: 40 minutes
Yield: 6 mini bundts or one small bundt
Feed your inner child. These Funfetti Mini Bundt Cakes were almost too beautiful to eat. Each bite, fragrant with lemon and dotted with little colorful rainbow funfetti, was a true delight.
Original Sukarah recipe.
Ingredients
2 cups (230g) all purpose flour
1 tsp baking powder
1/2 tsp salt
1 cup (200g) sugar
Zest of one lemon
1 cup (115g) butter, room temperature
2 eggs, room temperature
2/3 cup (155ml) buttermilk*
1 tbsp lemon juice
1/4 cup rainbow sprinkles
Decoration
Juice of half lemon
5 tbsp powdered sugar, sifted
2 tbsp confetti sprinkles
Steps
Spray a mini bundt pan with baker spray. Or brush the pan with melted butter and dust with flour. Set aside. Preheat oven to….
In a medium bowl, whisk the flour, baking powder and slat. Set aside.
Place the sugar in the bowl of stand mixer, use your finger tips to rub the lemon zest into the sugar. (Try not to daydream while inhaling the fragrant aroma from the lemon oil.) Add the butter, beat the butter and sugar using the paddle attachment until light and fluffy. 5 minutes on kitchen aid medium – high speed.
Add the eggs, one at a time, beating well after each addition. Add the lemon juice, beat for two minutes.
Reduce the speed to low, alternate between the flour and buttermilk (add 1/3 of the flour mixture. Add 1/2 the buttermilk, then 1/3 flour, then 1/2 buttermilk and finally the last 1/3 of flour mixture). Beat for 2 minutes.
Using spatula (don't mix using the mixer) fold in the sprinkles into the batter. Using an ice cream, spoon the batter into the prepared pan. Gently, tap the filled cake pan into the counter to help distribute the batter. Bake for 18 – 20 minutes in a preheated oven.
Cool on a wire rack for 15 minutes before inverting.
Cool completely before decorating.
to make the drizzle
In a small bowl, use a whisk to mix all ingredients.
Drizzle over the cooled cakelets. Garnish with sprinkles.
Enjoy.
Notes
DIY Buttermilk substitue: add one tbsp lemon juice, top it with one one cup milk. Let it rest on the counter for 5 minutes before using.
Schema/Recipe SEO Data Markup by ZipList Recipe Plugin2.2http://sukarah.com/2013/09/funfetti-mini-bundt-cakes.htmlSukarah | http://sukarah.com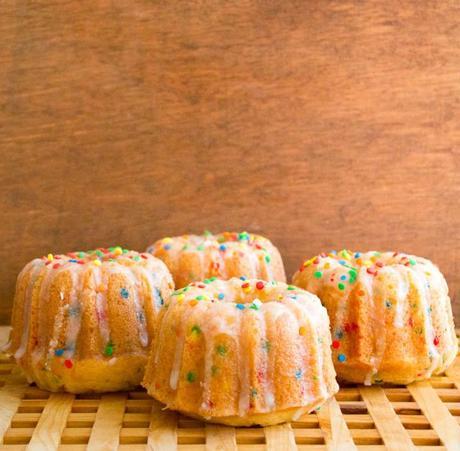 This post is part of bundtamonth. Happy birthday to bundtamonth. Hope you enjoyed my half dozen Bundts.
Here's how you can be a part of Bundt-a-Month:
Simple rule: Bake us a fancy bundt
Post it before September 30, 2013
Use the #BundtaMonth hashtag in your title. (For ex: title could read – #BundtaMonth: Fancy Bundt)
Add your entry to the Linky tool below
Link back to our announcement posts
You can also follow Bundt-a-Month on Facebook where we feature all our gorgeous bundt cakes. Or head over to our Pinterest board for inspiration and choose from hundreds of Bundt cake recipes.
I've baking with the group for the past 5 months. So far, i've baked a
May 2013   Strawberry and raosemary bundt cake,
June 2013    Chocolate Orange Swirl Bundt Cake,
July 2013    German Chocolate Bundt Cake,
August 2013    Peach Bundt Cake with blueberries, Lemon and Greek yogurt
And now these mini Bundts. Its really been fun baking with this group, not only because there was cake involved, but also because I like a good challenge especially when it come baking. Its been a fun-fetti bake.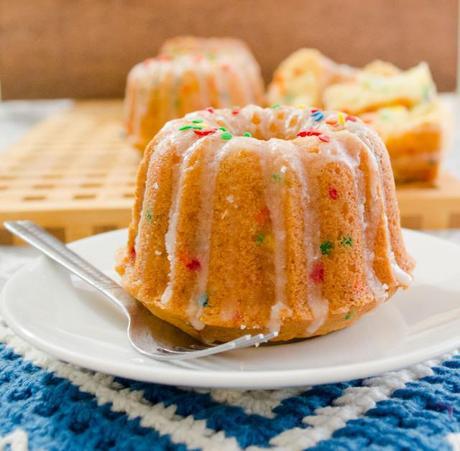 May these bundlettes always be devoured, enjoyed and baked.
P.P.S. Eat one as soon as they are baked because you'll never imagine how fast they disappear.
If you enjoy Sukarah's posts, please like us on Facebook, follow us on Twitter, or follow our pins on Pinterset.