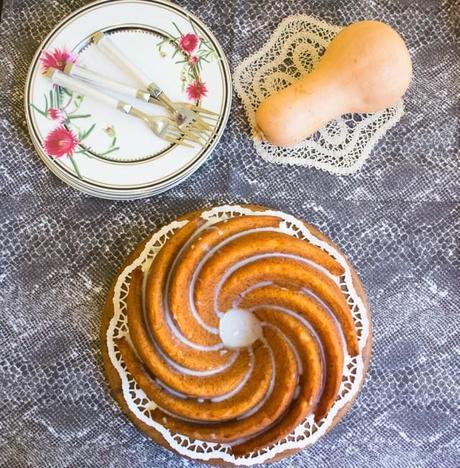 There is a lot of butternut squash in the supermarket near to my house. It's so cheap that I just couldn't resist not buying a few squashes. At first, Celine thought it was a toy. So she carried one, and took it to her room (she also has an onion, a garlic clove and two wooden spoons lying there somewhere, I just need to figure out where). Anyway, I've enjoyed cooking these squashes so much, I made some squash chips which she happily ate, squash soup, and squash potato cubes, etc… but then Ms. Picky eater decided she is done with squash, so I left wondering what to do with these last two squashes I got, until I remembered a post I saw few weeks ago about Food Librarian butternut squash bundt cake, and immediately, I knew it's time to take grease my Bundt pan.  It's time to make some squashy Bundt risks.
I knew while I was making it that I am taking a food risk. Living with a family of picky eaters has tought me that not all butter, sugar and flour are created equal. I've made few cakes before which didn't really pass their picky taste buds, but like I always say, any cake Bundt that doesn't stick to pan, or spill all over my oven is a good Bundt. So, when this one did not make a huge mess out of my oven, or give me hard times by sticking to the pan, I gave myself a little pat on the back for having a good Bundt day.
The first bite of this cake  felt like eating an oyster. No, it doesn't taste like oysters (or squash by the way), but I am a person who is always very intimidated when eating something for the first time. Therefore, let me tell you my honest opinion about this cake. It is so Freakn' good. Its loaded with fall flavors. It is Nutty, earthy and fragrant. Who would have thought a cake with butternut squash would taste so good? Never in my life am I ever to underestimate the power of butternut squash.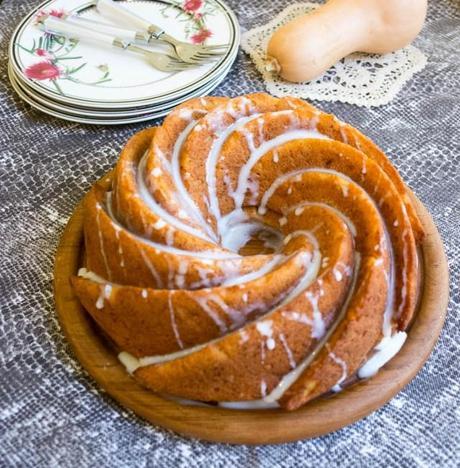 P.S. I had every intention of including a photo of a slice of this cake. Unfortunately, somebody stole the cake while I was shooting it inside my house! I was robbed in the middle of the day in my own house. OK, OK, that's a lie not very accurate. The truth is after I took these photos you see here, I sliced a piece to take some photos, but before I do, I decided to take a bit to decide whether the it's blog material or not. So when I took the first bite of that slice, I immediately was captivated I just could not stop. I served myself a second piece, and called my husband to join me in savoring this cake. He came by served himself a slice, and then came the kids, and then our friends came by and… That is who the cake was stolen in the middle of the day in my own house.
P.S.2 I borrowed the squash photographed above from Celine's playroom. She was very upset when she saw I had taken her "eeesquash"
Print Butternut Squash Cake
Prep Time: 30 minutes
Cook Time: 60 minutes
This cake is loaded with fall flavors. It is nutty, earthy and fragrant thanks to the combination of buttermilk, butternut squash and ginger.
Recipe Adapted from Fine Cooking
Ingredients
For the cake:
3 cups (375g) unbleached all-purpose flour; more for the pan
1 tsp. baking soda
1 tsp. table salt
1/2 tsp. ground ginger
1/4 tsp. freshly grated nutmeg
1/2 cup (115g) unsalted butter, softened; more for the pan
1-1/2 cups (300g) granulated sugar
1/2 cup (115ml) canola oil
2 large eggs
1 Tbs. distilled white vinegar
2 tsp. pure vanilla extract
3/4 cup (175ml) buttermilk
2-1/4 cups (220g) peeled and grated butternut squash
For the icing and garnish:
2-1/4 cups (250g) powdered sugar
3 Tbs. buttermilk; more as needed
1 tsp. pure vanilla extract
1/4 tsp. freshly grated nutmeg
1/4 tsp. table salt
1/4 cup finely chopped crystallized ginger (I didn't have this, so I skipped it)
Steps
Make the cake
Position a rack in the center of the oven and preheat oven to 180C / 350 F / Gas mark 4. Butter and flour a 10-cup Bundt pan (baking spray works too).
In a large bowl, sift together the flour, baking soda, salt, ginger and nutmeg.
In the bowl of stand mixer fitted with the paddle attachment, beat the butter and sugar for 1 minutes on medium speed until well combined. Add the oil and beat for 15 seconds until combined. Reduce the speed to low, add the eggs one at a time, mixing well after each addition. Add the vinegar and vanilla and mix again until just combined. Add half of the fry ingredients on low speed until just combined, add half of the buttermilk and mix until just combined. Repeat with the remaining flour and buttermilk.
Using a spatula, stir the squash into the batter. Pour the batter into the prepared pan and smooth the top with a rubber spatula. Bake until a cake tester inserted in the center comes out clean, about 1 hour. Cool on a wire rack for 30 minutes; then carefully invert the cake onto the rack and remove the pan. When the cake is completely cool, transfer it to a serving plate.
Make the icing
In a medium bowl, whisk the sugar, buttermilk, vanilla, nutmeg, and salt until smooth. Add more buttermilk, a few drops at a time, as needed, until the icing is pourable but still quite thick. Pour the icing back and forth in thick ribbons over the cooled cake. Sprinkle the ginger on top. Let the icing set at room
temperature, about 45 minutes, before serving.
Make Ahead Tips
This cake can be made a day or two in advance. After the icing has set, wrap the cake in plastic and refrigerate. Let come to room temperature before serving.
Notes
Wondering how to peel a butternut squash? Check this great post on Simply Recipes
Schema/Recipe SEO Data Markup by ZipList Recipe Plugin2.2http://sukarah.com/2013/09/butternut-squash-bundt-cake.htmlSukarah | http://sukarah.com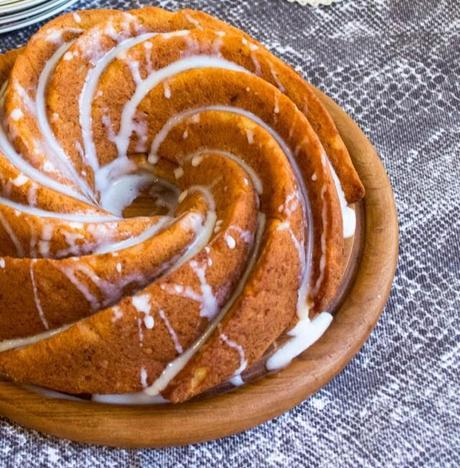 Well if anything, I hope we all learn to keep an open mind about vegetables added into dessert. Let's all do this. Let's just keep an open mind, buy some butternut squash, and make a Bundt. No one will ever complain.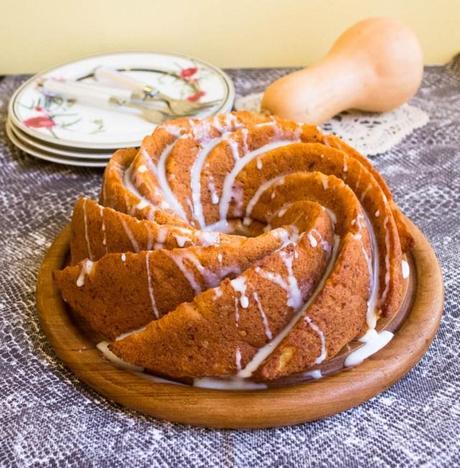 I should end this post by stating that the one photo i wish I had taken was  the look on everyone's face when i told them the cake contained squash. Their jaws literally dropped to the floor.
If you enjoy Sukarah's posts, please like us on Facebook, follow us on Twitter, or follow our pins on Pinterset.