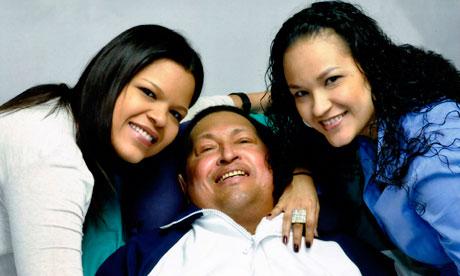 Venezuelan President Hugo Chavez on Monday made a surprise return to the country from Cuba after more than two months following a comprehensive cancer treatment.
Mr Chavez landed in federal capital Caracas at 2:30 a.m. local time and went to the Carlos Arvelo military hospital, where he is now being treated.
The 58-year-old took Twitter, where he has 3.9 million followers, to announce his arrival.
"We have arrived back in the Venezuelan fatherland," he tweeted. "Thank you, my God! Thank you, my beloved people!"
Animated after hearing the news of the arrival of the ailing president, tens of thousands of his supporters in Caracas came out of their homes and staged street celebrations to welcome him home.
Hugo Chavez went to Havana for surgery on December 11 to undergo knife for the fourth time since the detection for the decease in July 2011.
His return to the country came just three days after the government broadcasted the first photograph of the president in more than 70 days, showing him smiling along with his daughters, Maria and Rosa, on his bed.
Chavez, who has been president from fourteen years, was re-elected for another six-year term in October last year but he couldn't take oath for his new term due to his illness.
Despite of his return, it isn't yet clear that the whether his health will allow him to return to active politics or not.