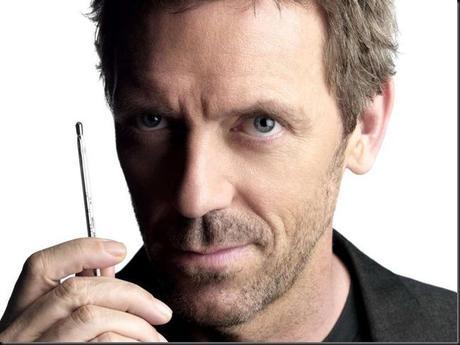 As you will gather from the title on this article, "House" the oh so successful TV series is finally winding to a close this year, and Dr Gregory House will be hanging up his white coat and will only be seen on our TV screens in the future in repeat showings. Hugh Laurie during his stint in the show was nominated for several awards, and the series end will create a hole in the TV schedules that will be tough to fill.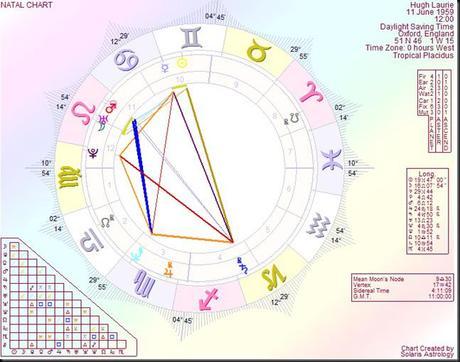 Hugh Laurie was born on 11th June 1959 in Oxford, England (no birth time known). He is a Sun Sign Gemini who has a big bold Leo Moon. This is a rather fixed and determined chart with 6 planets in fixed signs so Hugh will be quite stubborn as a whole. With a Leo Moon, there is a huge need within Hugh to be loved, appreciated and admired, and he will go about winning this favour through his inquisitive nature and his communicative skills.
The Sun sits in conjunction with Mercury in it's own sign of Gemini, so Hugh will always be reading, speaking, listening & inquiring about anything and everything. There however is a very stern side to his nature, a rather shy and reserved appearance that he will put up in front of others. This is because of a quindecile between Sun and Saturn in it's own sign of Capricorn and a opposition between Saturn and Mercury. Hugh will take his intelligence and breadth of knowledge very seriously indeed, and I suspect he will be quite a bookworm in his spare time. Saturn opposing Mercury can bring quite a sceptical mind, someone who needs proof before he accepts any theory. It also brings a totally methodical and careful approach to anything that he does. With any project that he enters into, he will be thoroughly prepared and also very determined to succeed and to do his best. Saturn in Capricorn is hugely ambitious, but only guarantees success after you have done your apprenticeship. Despite being well known on British TV in a double act with Stephen Fry (seen in a bit of Fry & Laurie, Jeeves & Wooster and of course the TV series Blackadder), it is noticeable that Hugh only really cracked the world TV markets and received acclaim once he had entered middle age. Saturn does make work hard to get any significant rewards.
Now we have four planets in Leo in this chart, the Moon, Venus, Mars and Uranus. Behind the reserved and polite appearance is much more of a maverick character than you would expect on meeting him. The Leo Moon loves attention, is proud, a bit pompous, warm, loyal and generous and this is combined with Uranus which is very self-willed and egotistical and has a wonderful and sharp sense of humor (very dry in Hugh's case with Saturn opposed to Mercury). Moon combined with Uranus loves anything different, obtuse and is fond of upsetting the apple cart, this combination of planets loves making it's own rules. With these two planets we have Mars in Leo which is all action, loving sport and competition and Venus in Leo which is romantic, wholehearted, completely open and hates small mindedness. When young, I can imagine Hugh was a bit of a rogue, a lad unafraid of taking a risk or two and likely to get into more than a bit of trouble.
Mars and Venus together often makes the first move in romantic situations and often can make someone who not everyone can get on with, they can be rather direct and sparky and seeing as Hugh has Sun opposite Saturn grumpy too. This combination loves children and being settled into a relationship, and Hugh has been happily married with his wife Jo for over 20 years and has three children, all have whom at some point in their lives have appeared with their Dad onscreen.
Mars & Venus make a square to Neptune in Scorpio, so here is the need for adoration and love through creative pursuits. This Neptune in Scorpio generation has brought out a wonderful selection of character actors (I have looked at so many on this website) with the ability to dig beneath a role to getting true depth and gravitas in any performance. It's almost like there are several levels to each character they portray and Dr House was a wonderful vehicle to Hugh to explore his full array of personal emotions to the full. I think there was a lot of autobiographical input behind this character, hidden behind the American accent that Hugh pulled off so convincingly, that many thought he was actually American!!
Secretly, Hugh would have wanted the success that he has achieved over the past decade. Neptune is part of two mini grand trines. One involving Mercury and Pluto and the other including a Saturn Pluto trine. Saturn Pluto is hugely determined and ambitious and wants to make a name for oneself, the objective seen at the point of the mini grand trine through Neptune's rulership of TV films and acting. The Neptune Mercury trine shows musical ability; he is very proficient in playing the piano since he had lessons from early age, and also plays guitar, drums and several other instruments. Neptune trine Mercury bestows a vivid imagination (this is where he gets his mimicking and language skills from) and with Pluto in Virgo at the point of this formation, it shows great technical ability and intense need to get every detail correct. Pluto sextile to Mercury shows a deep searching mind, someone who loves getting to the bottom of the human psyche; indeed rather like the mind of a psychiatrist and one looking for the deeper meaning of life & of everything around him. I told you Dr Greg was autobiographical, didn't I?? There is a downside to this mini grand trine though. When one analyses oneself so much as he will and the self-doubt cuts across you, as Saturn does opposing the mind (Mercury) and affecting the self (Sun), then depression can set in. The one with the searching mind needs psychological help to help themselves. Hugh has openly admitted he suffers with depression and has sought help to alleviate these problems.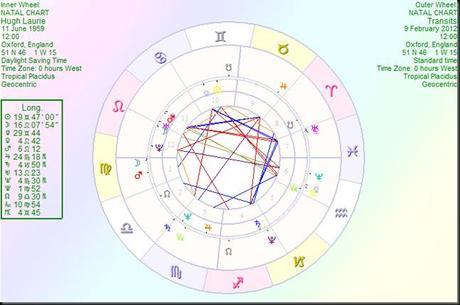 I am sure that it will not be long before Hugh crops up again on another hit TV series as his personal profile is sky high. The decision for the end of the series comes as transiting Pluto squares Hugh's nodal axis, a change in emphasis and a break to start new projects and transiting Uranus is now square to Hugh's Mercury Saturn opposition, saying to him time to move on.